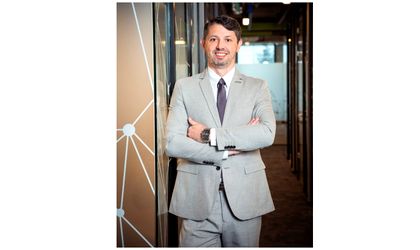 The CEO of Stefanini EMEA, Farlei Kothe's leadership helped Stefanini record one of its best years in its entire history, supporting more customers than ever and providing a great work environment for the Stefanini team to grow.
By Anda Sebesi
For Stefanini EMEA, 2022 was a record year from several points of view: it posted the biggest revenue in its history in the EMEA region and also had the best profitability; the company's NPS was above 60 for a second year in a row, much higher than its competitors'; it gained more new customers than ever; and it recorded the highest customer retention rate so far. Last but not least, according to the Employee Engagement Survey, 84 percent of respondents had a good feeling about working at Stefanini. "In a very mature market like the EMEA region, planning is something that most organisations are quite good at. But execution requires a lot of discipline, energy, and resilience, allowing us to adapt to situations that don't develop as expected," Farlei says. He describes his leadership style as being simple and based on several core principles: collaboration is crucial; ownership and responsibility come with with autonomy; planning is important, execution is key. "Based on these three principles, I can help the team understand what is required from my side: vision and strategy, roadmaps and timelines, and them making me aware of how I can support their work."
Stefanini's business philosophy, titled "Stefanini Attitudes," is built on seven pillars: lead by example; make a difference; act as entrepreneur; respect and believe in people; be ethical; and be humble to learn.
"All seven of these attitudes fully match my leadership style and the three principles I mentioned above, and that's why we are not just getting bigger, but getting better every year by applying these principles and having people at the centre of everything."
Asked about the main challenges the company faced last year, Farlei says they were related to the war in Ukraine and the economic turmoil generated by this conflict. "These two factors had a major impact on global logistics, bringing a level of inflation that had not been seen in Europe for decades, along with global economic uncertainty. As our customers are usually medium and large organisations operating all around the world, we are well aware of the challenges they're facing in this context. So, to overcome and manage this situation, we took advantage of our DNA, as Stefanini is used to performing well during periods of economic crisis. Stefanini is a Brazilian company, and Brazil is a country that faces uncertainty all the time," Farlei notes.
As digitalization initiatives got a significant boost during the pandemic, Farlei thinks that amid all the macroeconomic pressures that are currently hitting the global economy, organisations are looking to improve the quality of their services. "We will continue to see a high level of incertitude on the local and global markets, with companies cutting jobs and closing factories. Nevertheless, there's still a great opportunity for us to support companies that want to provide high-quality services to their clients."