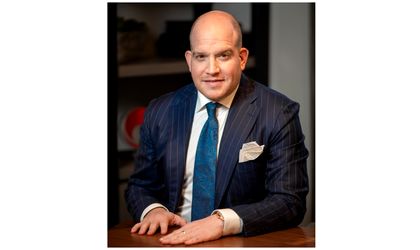 With a strong desire to encourage employees to proactively participate in the decision-making process, Dan Fiterman, the general manager of Arcadia Hospitals and Medical Centres, was able to mark several significant firsts for his business last year.
By Anda Sebesi
2022 brought a European premiere from Arcadia as the company launched the most innovative medical recovery hospital in Barnova, Iasi county. The Arcadia Medical Recovery Hospital is the most complex medical recovery solution in Europe and it welcomes patients aged 12-75 who wish to regain their mobility and ability to move independently. "With a total investment of over EUR 20 million, the new hospital is designed as an integrated journey to recovery, providing an individual plan for every patient, state-of-the-art technology to treat medical conditions, emotional support services, dietary plans, and constant help from our multidisciplinary team of specialists," says general manager Dan Fiterman.
Additionally, the company reached another milestone across its clinics and hospitals last year, as it treated almost 1.5 million patients, welcomed 1,300 babies, and saw its medical teams perform more than 9,500 complex surgical interventions in more than 20 specialties. "The private medical sector is highly competitive, and I see this as a very good thing that's for the benefit of patients, as they can choose where to go when they need professional help and be able to select the best option," Fiterman says referring to the context in which his business operates. When asked to describe the most demanding aspects of Arcadia's activity, Fiterman says that first of all, he makes sure to have right understanding of patients' demands and be well aware of what they need and what might cause them to worry. "To this end, we are continuously analysing the market and searching for the best medical tools we can integrate within our centres and hospitals, and we are constantly keeping ourselves informed about the latest health discoveries. We also place a great deal of emphasis on Arcadia's medical team, as their expertise plays an important role in our success in the Romanian health industry."
Fiterman also argues that leadership plays a crucial role in running a successful business and making things work in any context, no matter how difficult. "I am a firm believer in people's ability to do their best when they feel like they are in a healthy and honest work environment. As such, I strive to be considered a leader who always gathers input from my team members, giving everyone a chance to contribute to the decision-making process and as a result developing a grand vision of the business that employees can rally around. Finally, I would say that my leadership approach allows others to feel engaged and have a stake in the outcome."
Today, almost 15 years since the launch of the first Arcadia medical unit in Iasi, the company boasts a multidisciplinary structure with integrated outpatient services, covering areas from pediatrics, maternity, and surgery to medical recovery and beauty services.