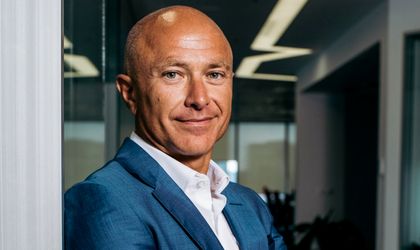 Achilleas Kanaris, the CEO of Vodafone Romania, had a big professional challenge as well as a great business opportunity last year: being part of Vodafone's transformation from a telecom operator into a true technology company. He is also the artisan behind Vodafone Romania's transition from being a leader in telecommunications to taking on a challenger status in TechCo.
By Anda Sebesi
"Last year we laid the foundations, and this year we will see material shifts in both the way we interact with customers and our offerings for consumers and businesses. For us, 2023 is the year of acceleration on the transformation journey," says CEO Achilleas Kanaris, adding that on this journey, everything that's being done isn't a top-down, take it or leave it type of endeavour. "It's actually a set of ideas that we discuss, sense-check, and co-create with the rest of the organisation. And trust is a big part of the process."
The company embraced the opportunity to digitalize and continues to do so. "We've always been ahead of the curve in investing in new services, and digitalization really came into the mainstream strongly in 2022," Kanaris says. A major achievement for the company was acquiring the spectrum that will allow it to bring better high-speed and high-quality connectivity to all Romanians, following the 5G auction. "We've invested more than 5 billion euros since we first launched our services here, and we'll continue to expand the local business," he adds.
Asked about the challenges the company dealt with last year, Kanaris says that energy became a hot topic. "To pay four times more for energy than we did in 2019 when the market is at such a competitive level today is extremely challenging. In terms of operating costs, 5G will also add to them, so we will probably be paying five times more." The fight for talent has also been intense, as there are many skilled workers who are living in Romania but working for western markets. "This makes our life more difficult, because a country like Germany can pay more than the local market," Kanaris notes. So even though there is talent on the market, it is not easily accessible because of the international competition. "In response, we train our own talent, hire fresh university graduates, and support their growth inside Vodafone Romania."
In terms of his leadership style, Kanaris says that he usually applies two key principles that he believes make a true leader: inspiring trust and empowering people. "The past few years have shown me that we have the ability to make swift decisions based on trust, quick analysis, versatility, and openness to change. Each one of us can individually drive collective change, as long as we have the proper guidance," he argues. Kanaris adds that in recent times, Vodafone Romania has had to deliver within days things that would have taken years not too long ago. First it was because of the covid-19 pandemic, then came the war in Ukraine, the energy crisis, and finally the rampant inflation. "Each one of these phenomena had a direct impact on the Telco industry. On top of this, Vodafone is transitioning from its status as a telecommunications leader to being a TechCo challenger."