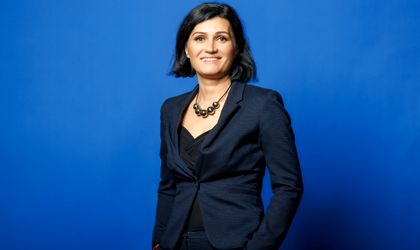 LEONI Romania strongly believes in human leadership, encouraging feedback, investing in people, and prioritising collaboration across the organization. According to Country Manager Andrada Verdes, LEONI's HR concept of the year will be "people-first."
By Anda Sebesi
How would you describe your HR policy?
Despite the multiple crises we have all been through since 2020, LEONI Romania has successfully strengthened its position as a high-performing member of the LEONI Group, a global provider of products, solutions, and energy and data management services in the automotive industry. The team that we have built here has made a strategic contribution to this performance. After all, our people have been the most predictable and stable element during recent events, starting with the covid-19 pandemic. We are a top choice among women—approximately 70 percent of our employees are women—and this is because we have an organisational environment that encourages and supports them, starting with the recruitment process and throughout the entire time they spend at LEONI.
What were the main initiatives the company dedicated to its employees last year?
LEONI is a people-first company and one of the most important employers in Romania, having more than 11,500 employees across 3 main plants and several other production satellites. We have various initiatives in our people strategy, including a cultural transformation process initiated by the LEONI Group. We aim to improve the work experience of all employees through a new set of values and positive behaviours that align with our organisation's principles. As an employer, we strive to ensure good work conditions, as well as a salary package that rewards effort, dedication, loyalty, and innovation. We also provide development opportunities based on a carefully designed career map, skills, and commitment. We are working on projects to bring people closer to the company's values and contribute to better collaboration between employees. A challenge for us is maintaining constant and consistent communication with people who do not benefit from the traditional channels that have become the norm for us. We aim to create as many contexts as possible to bring together line workers and professionals from different departments, areas of management, and top positions.
What is your strategy in terms of attracting and retaining talent in your company?
Our strategy is built on two main pillars. The first is nurturing each of our colleagues' development potential. In the automotive industry, it takes dedication and responsibility to deliver the highest performance and quality standards. We encourage and transfer these attributes within the organisation to all our colleagues. We offer in-house training, on-the-job qualification opportunities, and experience exchanges with other people in the Group through training or projects carried out in other LEONI locations. We are constantly investing in this process, and this is why we have people who started their careers at LEONI as operators and are now team leaders, supervisors, financial controllers, section managers—all people with important responsibilities who have become role models for the organisation.
The second pillar is our support and engagement for education and youth development. We have built a national network of partnerships with Technical Universities. We have stable partnerships in the main locations where we operate: Bistrita, Cluj, Arad, and Pitesti. In addition to internships, we provide students with scholarships and personalised career support based on their vocations and needs.
3 HR challenges for the automotive sector in 2023
Labour shortage: industries are facing a shortage of people willing to work in factories;
Fiscal predictability: for example, new taxes would harm the business environment in Romania;
Labour legislation: we need it to be consistent and adapted to market realities.