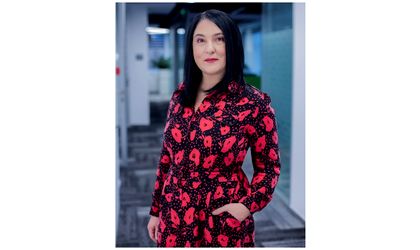 Diana Ghita, HR Director at Edenred Romania, talked to Business Review about the company's approach to attracting and retaining talent, highlighting the main pillars of its HR strategy, one that has played a major role in Edenred's success in the local market.
How would you describe your HR policy?
Enhancing employee experience is at the heart of our HR strategy, which is built on two main pillars: Grow and Care. Designing an Employee Value Proposition that helps attract, engage, and retain new and diverse talent is key to our HR strategy. Our EVP takes into account the set of aspirations and expectations of both our constantly evolving workforce and our prospective employees. The focus areas we have mapped out for this year's strategy include employee engagement, wellbeing, employer branding, hiring for job fit, upskilling and career growth, talent management, innovation culture, and elevating the role of the HR function. Our employee value proposition combines several elements that make us a desirable employer, including: a rewards' system featuring extensive flexible benefits that are accessible via the largest platform in Romania, an inclusive culture where everyone is treated fairly and valued for their unique contribution, a friendly working atmosphere, a caring employer approach, and a digital workplace allowing for hybrid work.
What were the main initiatives the company dedicated to its employees last year?
Last year we focused on providing our employees with an extended benefits package, enhanced local/cross-border opportunities for learning and development, as well as incentive and loyalty programmes that not only reward value-added contributions but also create a supportive, inclusive work environment for all. Our company promotes a culture of inclusion, non-discrimination, and equal opportunity in the workplace. The month of May was therefore dedicated to Diversity and Inclusion, which we celebrated not only from the perspective of age or gender, but especially through our different skills, diverse level of experience or diverse approaches to our organisational values. And since the entire ecosystem of benefits at Edenred Romania reflects what it means to live a healthy, harmonious life, we turned October into EdenHealth Month for Edenred Employees, a period dedicated to health and prevention. Several workshops were organised to allow our people to widen their perspectives, to learn new things from experts in various fields, and to improve their lifestyles. As for ESG principles, we were happy to have many of our employees getting involved in volunteering activities such as blood donation, food collection, and tree planting, which translated into the equivalent of over 100 days.
What is your strategy in terms of attracting and retaining talent?
Our employer branding strategy is one of the key drivers of increasing our company's presence and attractiveness in those places where our candidates are, so there is now more focus on social media, for instance. We bring candidate experience into the spotlight of our efforts to attract high-quality talent and skilled professionals. Hiring for job fit is embedded into our talent acquisition strategy to ensure a good fit with our culture and organisation over the longer term. All across the employee lifecycle, from onboarding to development and retention, our talent management strategy caters to our people's needs and prioritises transparent communication, ongoing performance feedback, wellbeing, professional development, and career growth opportunities.
3 HR challenges for the HR sector in 2023
Attracting and retaining talent with the right skills and mindset on a competitive market with an imbalance in the demand-supply ratio;
Identifying candidates with a good mix of digital and social skills;
Meeting the evolving aspirations and expectations of new generations.