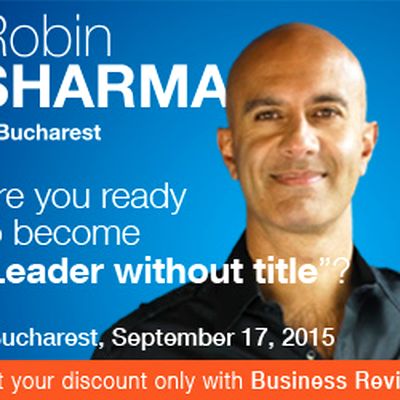 September 17th, 2015, Alexander Hotel, Events Hall, Bucharest
The workshop Robin Sharma – Best Performance Tactics for Success, is the biggest leadership event of the year. The main speaker of the event is Robin Sharma, one of the world's most important specialists in the field of leadership.
Robin Sharma will hold a complex conference addressed mainly to the entrepreneurs and to the top and middle management professionals, which aims to increase their employees' productivity, to increase their confidence in the organization, leading them to achieve their objectives.
Last but not least, the event will bring together professionals who are starting out or who are looking to change their career and all those who are concerned with improving their leadership skills and their professional development.
At the event will also speak Andy Szekely and Bogdan Comanescu, two of the most prominent Romanian speakers and authors.
---
PROGRAM:
09:00 – 10:00
Drum Café – energizing moment
Intro speech
Bogdan Comanescu – The Power to Lead
Andy Szekely – From Apprentice to Leader
10:00 – 11:30
Robin Sharma – Best performance tactics for success – Session 1
11:30 – 12:00
Coffee Break & Networking
12:00 – 13:00
Robin Sharma – Best performance tactics for success – Session 2
13:00 – 14:30
Networking & Business Lunch (for Platinum and Diamond ticket holders)
14:30 – 16:30
Bogdan Comanescu – Leadership Catalyst
---
SPEAKERS:
   Ro
bin Sharma is one of the top 5 leadership experts in the world, bestselling author of 15 books that changed mentalities and lives of millions of people, a successful motivational speaker on topics of leadership and personal development.
Robin Sharma shares his knowledge all over the world, where he lecture on leadership principles and techniques that can contribute to the professional success of corporations specialists, of entrepreneurs and others.
For more than fifteen years Robin Sharma has been called upon by CEOs in organizations to coach themselves and to teach their people. Among his clients are: Microsoft, GE, NIKE, FedEx and IBM and he collaborated with organizations such as NASA, IMD Business School, Yale.
His book, "The monk who sold his Ferrari". Became a bestseller in Japan, Great Britain, Dubai, Mexic, Spain, Portugal, Irland, Romania and was sold in more than 4 million copies. His books are published in 62 countries and translated in 75 languages turning him into one of the most read authors in the world.
One of his latest books, "The leader has no title" is a phenomenal blockbuster that inspired a vast movement around the idea launched by Robin Sharma according to which "Now, anyone, in any organization can show leadership".
Here are a few ideas of Robin Sharma' latest book:
 Leaders who have no title do not speak about people, but about ideas and desires
 Leaders who have no title help people to feel more important than they are
 Leaders can see people's skills that they are not aware and help them to emphasize it
 Leadership is not about authority, it is a state of mind
 It is important to know who you are, what you stand and then to have the courage to be yourself-in any circumstances, not only in those which serve your purpose
 Be authentic and consequent, so that who you are on the inside to be seen in your "outside" performances
To achieve the impossible, you need to first develop the mindset that it's probable. Please don't allow the current limits of your life define your future reality. You deserve so much better. And the world deserves your best."
– Robin Sharma
   Andy Szekely is a trainer, speaker, author and entrepreneur. As an author, he published four books, he produced over 100 hours of multimedia materials for adult education and he publishes an online newsletter for over 25,000 subscribers. He wrote the first book of NLP from Romania, in 2003, "Way to Success".
As a public speaker and trainer, he has worked with over 50 companies in five European countries and he has held demonstrative workshops in the US, Canada and China. Andy is a trainer specialized in persuasion and influence techniques. As NLP Master Trainer, with dual training (2003, 2006), Andy sustains programs for personal and professional development, as open seminars or training for companies.
As an entrepreneur he founded two companies (a publishing house and a training and consulting firm) and initiated Alpha Leadership Foundation that provides training, coaching and consulting for organizations and entrepreneurs.
He developed six training concepts that thousands of Romanians across the country have benefited through open courses: Mind Shaping, Professional Speakers Skills, Dealing with skeptical people, Protect Yourself, Powerful business writing, charisma enhancement.
His signature project is Bootcamp University – an intensive training camp for personal and professional development of adults with entrepreneurial spirit.
   Bogdan Comanescu, the founder of Accelera, has 25 years of national and international experience in marketing, sales and commercial development. He completed projects in France, Germany, Italy, Spain, Czech Republic, Bulgaria, Austria, India and Romania for companies like Accor, Allianz, Vodafone, Aliat Mercedes, BMW Automobile Bavaria and still over 100 companies. Over 4,000 students are registered in his programs of Leadership, Management and Sales and more than 10,000 people attended his public conferences.
Bogdan Comanescu is the author of numerous articles and co-writer of "MAXIM – Psychology of sales force motivation"; he received the title of "Best Speaker of the Year 2012" awarded by Business Days and is the founder of "I deserve, I want and I can!"- the largest workshops in Romania.
  Andrei Roşu, the Romanian who entered the Guinness Book of World Records after running 7 marathons and 7 ultra-marathons on 7 continents, comes to the 2015 business event, Best performance tactics for success workshop held by Robin Sharma.
The similarity between Robin Sharma and Andrei Rosu consists in their determination to make such changes in their lives so that they become a real role model for their children, to constantly overcome their fears and temptation to remain in their comfort zone. Their actions had a major impact on those around them or on those with whom they come in contact.
Desiring to continue his mission to change for the better the people's life, Andrei Roşu is joining the Robin Sharma event at Bucharest, on September 17th 2015 in order to offer the participants a unique challenge.