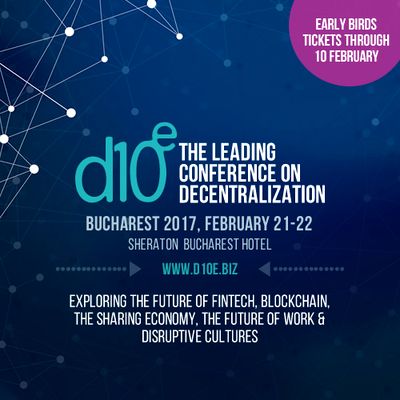 Bucharest February 21-22, Sheraton Bucharest Hotel
Business Review invites you to d10e, the leading conference on decentralization, for an exclusive exploration of the hottest developments in Decentralization, FinTech, Disruptive Tech, Startups and Culture, The Sharing Economy and the Future of Work.
d10e is a numeronym for decentralization. In the past couple of years, the FinTech ecosystem embraced Bitcoin and other digital currencies, a movement which allowed multiple disruptive industries to explode. The race toward a unifying theme (decentralization) became evident and part of our everyday lives.
Decentralization isn't a buzzword, but an idea capable of driving the cultural shift toward the next leap in human civilization. What can be decentralized will be decentralized.
Business Review readers receive a 10 percent discount upon registration!
Register here with the 'BUSINESSREVIEW' discount code.
[one_half]
See the speakers
[/one_half][one_half_last]
See the agenda
[/one_half_last]