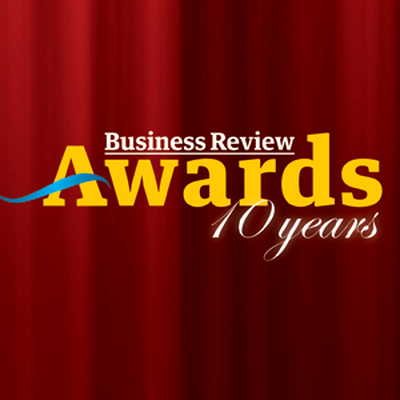 10th edition, March 2nd,  Radisson Blu Hotel, Atlas Hall
10 annual Business Review Awards, over 600 nominees and over 120 trophies awarded – Business Review magazine celebrated excellence in business on Monday, March 2, at Radisson Blu
Over 200 leaders from the local business community attended the ten-year Anniversary Gala of the Business Review Awards on Monday, March 2. Since 2006, Business Review magazine has awarded the best business achievements, innovation and entrepreneurial spirit.
From greening their businesses to training the next generation of entrepreneurs, from funding SMEs to bringing an ailing company back from the brink, some players on the local market defied the tough trading conditions to shine in 2014.
Fourteen trophies were awarded in 13 categories to over 40 nominated companies. This year we introduced a special type of award, which recognizes those individuals who have demonstrated outstanding and inspirational leadership, integrity and unselfish service, making significant contributions to the community – THE HONORARY RECOGNITION AWARD. 
See who the WINNERS are!
Read HERE more about the projects they were nominated for.
We invite you to watch the ten-year anniversary video of the Business Review Awards bellow:
PHOTO GALLERY BUSINESS REVIEW AWARDS 2015 
We were honored to have had as our evening host – announcer of the prizes – and entertainer extraordinaire, Mr. Colin Lovering.
We also thank our SPECIAL GUEST, Eduard Novak, Paralympic World Champion, for his inspirational speech! 
Welcome reception – 7:00 PM
Awards Gala – 8:00 PM