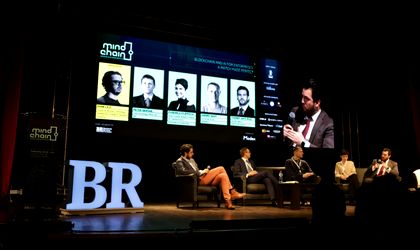 MindChain – When Blockchain Meets AI, one of Business Review's flagship events of 2019 and the biggest event focused on blockchain and AI ever held in Romania, has started. Panelists are debating the benefits of AI and Blockchain convergence, or fintech improvement alternatives using blockchain and AI. Read on to get some insights from local and international speakers on blockchain, AI, the way these new technologies can work together and the impact they will have on our lives.

"The world isn't rational and incentives aren't aligned as they could or should be".
"The economy is measuring the wrong things. We aren't moving fast enough on spending money on the right things, like sustainable development. We need to spend 17 times more what we spent last year, but our economy is stopping us from doing it".
"If we're going to do all these changes we need, democracy needs an upgrade. We're going to piss some people off but we need to know who they will be so we can minimize that harm".

"There is no reason the french state should have allowed GIllet Jaunes to happen. If you get enough information and get what people really want you can truly help and support people".

"I didn't see blockchain coming. If I had, I probably would have gone to work on it because it's incredibly exciting".

Economics needs a health transplant – it needs values injected into it. Right now, it just exists but doesn't have any purpose. Blockchain lets us bake governance right into currency itself and that's a groundbreaking concept that's going to project us into the future.Ed Dowding ,CEO, Represent.me
"Now is the time the regulator is finding its voice. Most of them are from back in 1987. But there has been a fundamental change in the way Blockchain and AI have transform the financial system. The supervisors need to get real on the terms of regulations. If it looks like a financial instrument, it will regulated as a financial instrument.
"We are starting to already see a shift in how financial businesses are structured. New regulations are encouraging businesses to be inside the regulating zone. Regulators in EU already say that if you use fintech this is what yoy need to do. For once, we have certainty. And this can empower entrepreneurs to have a more stable business model".

"Ethical hacking has become part of the European regulatory laws.Even a smart-contract must be verified by a human in order to be official.The law has boundaries, even if the business does not". Michael Huertas, Partner, Dentons
"What we are facing right now is a generation of students who are taught in the old ways. We will have to change our education system if we want to change the way the system works".
"AI will not give us the solution, it will give us the data, the material we need to make a decision. And that decision will come from lawyers and other professionals, not from machines".
"Smaller countries, like Malta for example, need to find investors and that is why they are more open to new tech and regulations".
We must stop believing that any problem that arises from new tech can be solved by issuing a new regulation. Regulators won't be the only ones who will be able to find solutions for such problems.
Christian Piska, AO. UNIVERSITÄTSPROFESSOR UNIVERSITÄT WIEN
"I was very excited recently about IBM's AI interface. It understands questions so if I ask it a question it can look for the best example of that question through context and syntax. It can find a valuable advice for that special question or problem".
"And blockchain can help us avoid centralization. But, no, it will not make lawyers redundant. AI, ROSS Intelligence, can extrapolate from past cases, but they cannot do that for a current case. At least for now. It will become redundant to memorize things, the machine can do the data mining for us".
We're going to have to work very hard to maintain democracy and justice and the checks and balances between them. These new tools will make it easier to do that.

When I think about the consumer, I think about my mom. There's a huge difference between the knowledge of various users. Even entrepreneurs aren't even well-educated on the features of blockchain. Most likely, retail investors will have no clue about what the token economy and blockchain mean. Aviya Arika, Advocate Chief of Blockchain, AVIYA
"If you put crap in the data, the AI will give you crap".
"As a lawyer my job is to advise others and when I look at blockchain I see that there is a flaw in the AI. From the point of view of risk, there are still a lot of things that we should be aware of".
Thomas Kulnigg, Partner, Schoenherr Attorneys at Law
"Enterprise is the human component and the one we should be focused on – where are we headed as a society. AI and blockchain are tremendous opportunities for our generation. We should be more worried about what we're really trying to achieve and not make mistakes i the long-term. BUt in the short term these are going to be freedom enhancing technologies. It's about the people – we're going to have a meritocracy, the best ideas will win – it won't matter who's behind them". 
Thierry Arys Ruiz, Founder and Managing Director, AgAu.io & TARCO International

"AI can solve some of Blockchain's problems. AI will help optimizing processes. This technologies are very different, one open, one centralized. But there are uses for both of them. An example is in healthcare industry, were blockchain is used to store and use sensitive data. Use the technologies as tools and don't forget about the human component".
Evgeniia Filipova, Senior Scientist at the Research Institute for Cryptoeconomics, WU (Wirtschaftsuniversität Wien)
The Technologies singularity is approaching. The social singularity is approaching. The experience economy is approaching. Currently there are developing independently. Bun soon they will work in tandem.The abundance generated by AI will liberate labor and capital, as well as care, creativity and consciousness"
Maxwell Borders, Founder, Social Evolution, Inc.
"Blockchain and AI will be decisive in the future. AI is a centralized technology, a black box. There is a lot of skills in the market, in the blockchain. There is a need and a use for AI in the blockchain tech.The world has started to decentralize. Blockchain is one of the first signs and I encourage all of you to be part of that"
Peter Gersak, Chief Technology Officer, South East Europe, IBM 
"Blockchain is a technological invention that is a distributed and decentralized ledger of immutable transactions, organized in blocks that are linked together sequentially. The buzz around blockchain is due to the benefits it provides, but not all businesses can be put on the blockchain. And of course, any technology also has risks. Among the biggest risks is that bots can learn things that are not intent to, like the chat-bot Microsoft put on Twitter and it became racist by the end of the day. Fintech are using chat bots in the big scale. The robot I not AI itself, it is just a container for AI. That is why AI is the most important topic for everybody. AI is pretty smart and it has almost unlimited applications. I searched on Google and there are over 45 million results for Fintech apps. Also, almost all apps are mobile apps due to the fact that companies want to be in the consumers' pockets. Moneymailme was the best Social Payments App in the UK in 2017 by the publication CFI.com".
"I'm not a believer that blockchain is the next internet or the next big thing. I have this opinion about technology that's able to reshape the future of humanity – the internet and AI were some of those. Blockchain is just a powerful tool that has two important properties: commutativity and decentralization. The world would be reshaped if the entire banking system were moved to the Blockchain, leading to near-zero costs and instant operations."
Laura Manescu, Head of Moneymailme, M3 Holdings
"Computer systems started innovation in the financial industry. This competition and collaboration between fintech and banks will be built around innovation. There is a need to enhance interaction between the two. ".

"Platforms are built by communities. If those communities are able to work within these newly-created intelligent ecosystems, they're going to be able to enhance their capabilities".

"Blockchain is enabling trusted transactions. We all know that they are stored and have a static value. What we bring into the conversation is the capability to predict a transaction – when the transaction will happen again, and how – whether it's financial, human, governmental or any other type".
Andrei Nagy, Co-Founder & COO, AlphaBlock
"When you make a transaction with a crypto currency through Blockchain, user experience is so much more transparent. When we talk about change, it's all about mindset and what her company is going through. It requires for the mindset to be open to technology in order to embrace fintech. Coming from a big tradition bank, it was so different to work for a start-up, it was hard to get use to the use of bots. You can use AI but you can't rely on the bots to do all the work".

"I do think that blockchain is the next internet and even bigger than the internet. Every economy is about exchanging values- we want to exchange them quickly, efficently. Through blockchain, this is much easier, faster, cheaper – we see use cases in the financial sector and that industry is being disrupted first because of bitcoin – we shouldn't forget that global finance is a 35 trillion dollar industry so there's a huge potential to improve it".

"Blockchains are like early stage ventures just with real-time pricing and in the future we'll see lots of companies built on top of various blockchains".  Emi Lorincz, Co-Founder, wibs.io

 

 

"Blockchain is the next big thing but the same cannot yet be said about AI, in my view – we can understand blockchain, but we're not yet capable to understand the potential of AI".

Message young people: "I think the age we're living in is incredible, and blockchain and AI are just a small part – you can decide what you want to do, besides looking for a job – you will create your jobs. And this didn't happen for previous generations. Don't miss this window of opportunity because it may not last"

Inti Paolucci, Partner, GapMinder Venture Partners


 
"We're on this wonderful journey of innovation – that innovation is on the edge of a new explosion of tech that can change the world. Jump in, innovate. The more you do, the more we like to see those innovations becoming a reality and becoming part of your new world. Go ahead and fail – the more you fail, the better you'll get".
Jurgita Rhodes, Senior Partner, Marquis Media Partners
"Even blockchain and AI can't go into the energy market as long as the grid doesn't get smarter"
Dragos Rautu – Head of Custom Development, Modex
"Where we're seeing tremendous potential for blockchain is showing the provenance of energy and be more informed in consumption. Cooperation between utilities is still a challenge and there's a high cost for this coordination. Having a blockchain middle-layer can allow utilities to collaborate without the huge costs."
John Lilic – Director for business technology development, strategy & operations, ConsenSys
"Even before blockchain, so many people tried to implement AI into healthcare. Why, with all the medical advances we have today, we still have so many people dying from mistakes, misdiagnoses? Why is this happening when we have AI to help us?"
Yael Tamar – Founder, Top of Blockchain
"AI is used to diagnose and treat and blockchain to distribute the data and make sure it's not vulnerable to fraud and distortion."
Dan Popescu – Software Tech Lead, Modex
"Right now patients in hospitals are monitored at most two times per day and their health can deteriorate during this time. AI can help avoid such situations."
Elena Ovreiu – MedTech Entrepreneur
"One of my projects is WakeZ – an app that's a digital solution for better sleep, using existing wearables like smartwatches or fitbits – using vibration stimuli you can influence the brain during sleep and thus influence sleep cycles like REM or light sleep. It also helps people no longer wake up tired and fall asleep more easily. We need to develop deep learning algorithms to find the right vibration patterns for certain sleep phases"
Zaki Milhem – Co-Founder & CEO, WakeZ