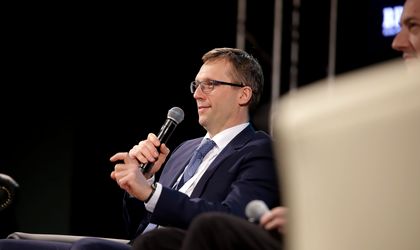 The healthcare industry will be the first to adopt AI on a large scale, but it will not be easy to trust the results it offers because the data is biased by definition, said Peter Gersak, Chief Technology Officer for South East Europe at IBM, speaking to Business Review at MindChain. But AI, blockchain, quantum computing, cloud and IoT are the technologies that will shape our future.
"I would say healthcare will be the first industry to use AI on a big scale. It's about the data, the data to be trusted with the AI application, this is one of area of use for the AI. The next area, I don't know if that will be in a short time, is how AI uses data and how it handles it. When you put the data in, you train the model and the there are some outputs. And you cannot link the outputs to the inputs. That is the trusted AI. It is the biggest issue that we, as a corporation, are working on.
AI Open Scale is our program, one of the first that are trying to solve these kinds of problems, although there is no convergence with blockchain yet."
AI seems to be already able to solve medical problems, like discovering cancer, since it is able to compare with thousands of past cases, something that a human is not really able to do. Is this true? 
Yes, these solutions are already available. We started with Watson for oncology then, as you know, AI needs to be taught in every field – it's Narrow AI, we don't have Broad AI or Generic AI. This are the solutions that are emerging, that are there already. And the best results is that they are more accurate than doctors. But how we perceive it as a corporation is that AI has to be healthy, has to augment, help a person, not replace a person. Basically, AI is looking for an answer and it offers the best answers to the doctor. So the decision is still with the doctor.
For example, say you have built a model and you need data for that model. The data is biased by definition. It is biased by the trainer, if not in a different way. So, how do you trust this model? The example of Microsoft chatbot is very good to understand how we can trust an AI model.
Both technologies – blockchain and AI – have limitations. Time will show to what extent these technologies will evolve, but we as a corporation really believe these are the technologies of the future. Besides them, there is quantum computing, which is bringing a completely new paradigm of computing, as well as cloud, cybersecurity and IoT. There are more and more sensors and more data for the cloud.
IBM has already invested a billion in blockchain, I think. We now have around 400 projects running on blockchain. The technology is mainstream for us now. We do invest to develop blockchain in the hyper-ledger community.
As for AI, we basically started it. If you remember the Joepardy game where we had Watson competing with two champions and Watson winning the 1 million dollar prize. With the appearance of Deep Learning we can say that the AI winter has ended. We even took Watson and divided it in two pieces, and those pieces are now available for clients.
So we do heavily invest in AI, but the point is that blockchain is the new technology, while AI is 45-50 years old. In these 45 years there have been many companies working on it and now they say "Hey, we have it! So let's use it!"
There is a lot of open source today, like Google, and it is very difficult for a corporation to fight that. That is why our approach at IBM is dual: we have open source products or we can offer our own technology.
Is IBM ahead of competitors today?
If you look at the AI market now, we were like 6 months ahead of the competition, but the competition is catching up, is coming up with some better products, then we come up with something better. Our strength and advantage is our cloud, because it is focused on enterprise and our products are very well engineered.