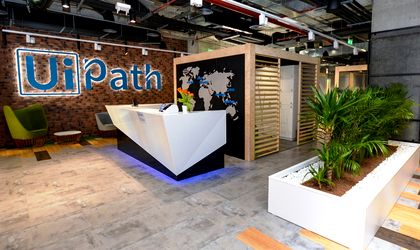 The cloud technology came into full force without big IT corporations noticing it, so companies like SalesForce, specialized in Software-as-a-Service, managed to steal market share from giants like Oracle and SAP. The same thing happens today with robot process automation (RPA); while companies are busy with blockchain, the RPA is getting more usage in businesses around the world.
"RPA is the new BPO (business process optimization) and there is no place in the enterprise world where RPA cannot be implemented," says Vargha Moayed, Chief Strategy Officer at UiPath, who also said that the market already reached USD 3 billion, a value analysts estimated for 2021, and it can reach USD 50 billion in the future.
UiPath, the leading provider of enterprise RPA software, had learn that businesses need to assess all opportunities, test different scenarios and plan ahead when it comes to scaling their RPA deployments. So it has opened an Immersion Lab, a physical space where prospects and partners across EMEA can visit for a deep-dive journey into RPA and AI.
The Lab, situated in Bucharest, Romania, will enable customers and partners to deliver optimal RPA and AI implementations by simulating their environment beforehand, and also allow them to realise possibilities beyond their existing RPA operation.
The opening of the Lab forms an integral part of UiPath's mission to create an 'Automation First' era. This initiative champions one robot for every person, free and open training and collaboration, and enabling software robots to learn new skills through AI and machine learning.
The Lab has been built with pre-installed and ready-to-use showcases involving emerging technologies from the UiPath partner ecosystem. Customers and partners can bring their own data and test pre-configured demo use-cases, exploring automation – which brings measurable business benefits – and artificial intelligence technology integration, to guide their digital transformation strategies.
Led by UiPath Chief Robotics Officer, Boris Krumrey, the Immersion Labs are part of the UiPath Global Services operation.
"Companies are eager to explore AI and related technologies, but many find it difficult to imagine the move from task and process automation towards the desired destination of company-wide digitisation. Our Lab simulates the experience of what lies ahead of automation. It  will empower our customers and partners to make informed decisions, in order to advance to the next level of their business strategy," says Krumrey.
He also mentioned that an investment of about half a million dollars was needed to equip this laboratory and investments for the demo labs that the company will open this year in Tokyo and New York require smaller investments.
The Lab also provides the ideal facility to conduct workshops with machine learning and business process improvements. Drawing on UiPath best practices, teams will build and test showcases in various lab environments – with outcomes recorded and documented for further use.
The Bucharest Lab, which was announced last October at UiPath Forward in London, is the first to open globally. Further Immersion Labs will be built across the world – including in Bangalore, Seattle and Tokyo by the end of 2019. Regional teams of RPA developers, data engineers and consultants will develop, maintain and present ready-to-use showcases.
The Labs will also be used for conducting UiPath Academy Live trainings and streaming live webinars about new product highlights and solutions with new showcases.
UiPath is leading the "Automation First" era – championing one robot for every person, delivering free and open training and collaboration and enabling robots to learn new skills through AI and machine learning. Led by a commitment to bring digital era skills to more than a million people, the company's enterprise Robotic Process Automation (RPA) platform has already automated millions of repetitive, mind-numbing tasks for business and government organisations all over the world, improving productivity, customer experience and employee job satisfaction.
Recently named by Comparably as the 6th happiest place to work and recognized for having the 11th best company culture among large businesses, UiPath has become one of the fastest-growing enterprise software companies in history. The company is backed by over USD 400 million in funding from Accel, CapitalG, Credo Ventures, Earlybird's Digital East Fund, IVP, Kleiner Perkins, Madrona, Meritech, Seedcamp and Sequoia.