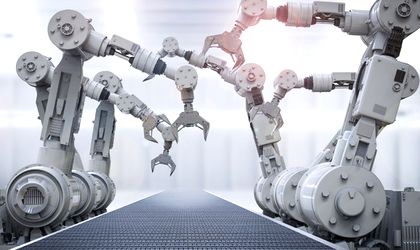 The latest report by the International Robotics Federation (IFR) shows that Romania's industry has 18 robots for every 10,000 workers – twice as many as in 2014.
However, Romania is well behind other countries in Central and Eastern Europe. Poland's robot density is 36 per 10,000 industry employees, while Hungary, the Czech Republic and Slovakia have 78, 119 and 151, respectively.
The IFR's October report showed that global industrial robot sales doubled over the past five years. The world average is 85 robot units per 10,000 employees.
The global leaders in industrial robots are South Korea (710 robots), Singapore (658), and Germany (310). Japan, which was the world leader back in 2009, is now in fourth place, with 308. By continent, however, Europe leads with an average of 106, followed by the Americas with 91 and Asia with 75.
The automotive industry remains the largest adopter of robots globally with a share of 33 percent of the total supply in 2017 – sales increased by 22 percent, according to the report.
The electrical/electronics industry has been catching up with the auto industry: Sales increased by 33 percent to a new peak of 121,300 units – accounting for a share of 32 percent of the total supply in 2017. The metal industry (including industrial machinery, metal products and basic metals industries) is also on an upswing. Share of total supply reached 10 percent with an exceptional sales growth of 55 percent in 2017.