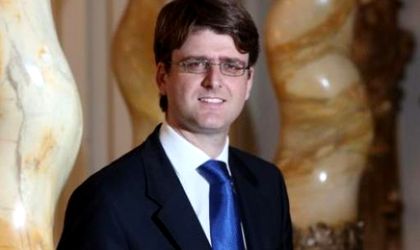 German businessman Bogdan Alexander Adamescu was arrested on Tuesday in London. The son of controversial businessman Dan Adamescu, owner of insurance company Astra Asigurari, he is wanted in Romania under bribery allegations. According to Romanian authorities, Alexander Adamescu, who keeps a low profile, had evaded prosecution.
Following investigations, in March 2016 prosecutors of the National Anti-corruption Directorate (DNA) requested that the Bucharest Court issue an arrest warrant for Bogdan Alexander Adamescu, accused of two counts of bribery. In May, at the time the warrant was issued, DNA prosecutors revealed they were familiar with Adamescu's whereabouts but could not reveal his location at the time. Reportedly, UK police acted on an information provided by Romanian police.
According to a last-minute statement by the lawyer of Alexander Adamescu, his client, who does not hold Romanian citizenship, has been in contact with authorities in London. Furthermore, he argues that Adamescu was subjected to lengthy procedures connected to the European Arrest Warrant (EAW), which explains why a warrant issued "either May 4 or 5" was enforced with such delay.
Alexander Adamescu is the eldest son of controversial Romanian businessman Dan Adamescu, owner of a business empire that includes real estate assets such as Unirea Shopping Center in Bucharest and Rex Hotel in Black Sea resort Mamaia, newspaper Romania Libera and insurance company Astra Asigurari. According to Forbes Romania, in 2015 his fortune was estimated at EUR 550 million.
Last month, Dan Adamescu was sentenced to four years and four months in jail after he was found guilty of having bribed judges handling insolvency cases involving his companies. His son's name appeared in the same case. According to DNA prosecutors, in June and December 2013, Alexander Adamescu, together with his father, remitted through intermediaries the amounts of EUR 15,000 and RON 23,000 to two judges from the Bucharest Court. In return, the judges were required to provide favorable solutions to one of the firms where Dan Adamescu was shareholder, subject to insolvency procedures.
Dan Adamescu is also prosecuted for the bankruptcy of Astra Asigurari. As part of the procedures, investigators seized RON 857 million from his fortune. In May 2016 Alexander Adamescu made headlines when he announced that the majority stakeholder of Astra Asigurari, The Nova Group Investments (TNG) was planning to sue the Romanian state. According to Alexander Adamescu, "the Romanian state, through the Financial Supervisory Authority (ASF) and other institutions bankrupted Astra. The only way to prove it is by means of an arbitration before the International Court of Arbitration; to this purpose, TNG notified the Romanian Government in mid-December 2015."
According to reports, extradition procedures for Alexander Adamescu are expected to begin soon. Rani Adamescu, the son of Carmen Adamescu, Dan Adamescu's former wife, made headlines in local tabloids, which reported on his extravagant holidays and spending habits. Dan Adamescu himself became a subject of tabloid articles, after his wife filed for divorce.
Georgeta Gheorghe