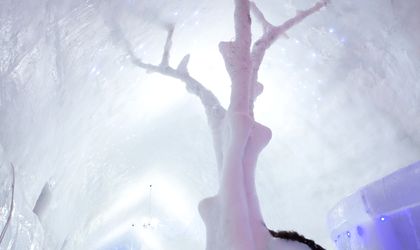 The 12 double rooms and three igloos of the Balea Lake Ice Hotel are awaiting guests from December 25. Most of the ice rooms were booked by a group of 30 British tourists, who plan to spend New Year's Eve at an altitude of over 2,000 meters, in central Romania, says Vasilica Popa, representative of hotel owner Klingeis Consulting.
By Oana Vasiliu
The owners of the hotel and igloo complex started to put up the buildings in early December. With a fairly short lifetime of only three to four months, the Ice Hotel at Balea Lake has proved quite a tourist attraction in recent years, with thousands of visitors from all over the world venturing here at least for a snapshot in the icy rooms.
Besides the accommodation, there is the Ice Bar, Ice Restaurant and Ice Church. The Ice Bar is the heart of the hotel, and warms the most frozen blood with cocktail specialties not served in ordinary glasses but in receptacles carved out of ice. The bar is open daily from 9.00-21.00. The Ice Menu consists of an unforgettable culinary journey: sitting at a table made from a block of ice you will partake of a special menu – partially served on ice plates. The food is carefully prepared at the Balea Lake Chalet and delivered to the Ice Restaurant.
The Ice Church, open to believers of every faith, is probably the most extraordinary church in Romania. The first step in building the church every year is the sanctifying of the water of Balea Lake. The ceremony is led by representatives of the Orthodox, Romano-Catholic and Evangelical Churches – the region's major denominations. The unique Ice Church is about 4 meters high and its architecture is based on an old church located in Malancrav, Sibiu County.
The hotel was the brainchild of Arnold Gunter Klingeis. Travelers interested in sampling the ice experience will be able to attend events organized at the location and enjoy frosty eating and drinking.
The first ice hotel in Romania and indeed the region was constructed in winter 2005/06. As the first building of its kind in Eastern Europe, success came immediately, with approximately 3,000 local and foreign tourists visiting the site, which was then at the top of the Carpathians. Located 60 kilometers from the city of Sibiu (272 km northwest of Bucharest), the Balea Lake tourist area is accessible in winter only by cable car, as the national road DN7, the Transfagarasan, is closed at this time of year.
oana.vasiliu@business-review.ro