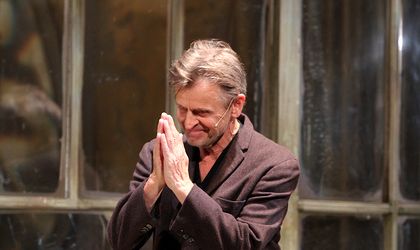 Undoubtably, Mikhael Baryshnikov is the talk of the town here at Sibiu International Theatre Festival (FITS). Since he arrived here, at the beginning of this week, everyone talks about him. And everyone enjoys his presence while he can be seen on the streets of Sibiu, walking around and enjoying the view.  And also the magic of this particular festival.
"I am very happy to be back to Romania after so many years, probably 50 years or so, and I am grateful to be here. In the last day I've been around and I saw your beautiful town and I was truly impressed by the scope of this festival. It's not even an answer to the cities like Edinburgh, but it's even more because the whole city is involved in the program with all these volunteers and the budget of festival which is also so impressive. The programs are so impressive, with artists from all around the world, from young emerging artists to well established artists and I'm looking forward to participate in this festival and to perform here," said Mikhael Baryshnikov in a press conference on Tuesday.
After the press conference, we've met for several times: on the streets, at the Festival's Club, at some dancing performances, on stage. I'm still pretty amazed by the fact that a ballet dance legacy is here, at FITS, presenting himself as a one man show, performing as an actor, not as a ballet dancer, as expected, paying tribute to his dearest friend, the poet Joseph Brodsky. But what's more then that, he went to see all the dancing performances from the festival's program and he even offered feedback to the dancers, rumours say, some pictures confirm. I believe this is what a maestro does – and Mikhael Baryshnikov is clearly one of the best maestros of the world when it comes to performing arts. And his arts centre confirms my theory. In 2005, he launched Baryshnikov Arts Center (BAC) in New York City, a creative space designed to support multidisciplinary artists from around the globe. Under his leadership as artistic director, BAC's programs serve more than 700 artists and 22,000 audience members annually. What's more, each studio of BAC is named after important figures from his past: the dancers/choreographers Merce Cunningham, Jerome Robbins and Rudolf Nureyev, the composer John Cage. Just another amazing form of tribute to his friends.
Brodsky/Baryshnikov performance at FITS
It's pure poetry in motion, as Financial Times has named this particular performance of Mr. Mikhael Baryshnikov. It's unexpected, I might say.
Their friendship started when Baryshnikov arrived in US, in 1974. They were good friends up until the poet's death. They were that kind of friends that used diminutives instead of their real names: Brodsky called the diminutive Baryshnikov "Mouse", which in Russian language sounds like Misha, Baryshnikov's well known nickname. Brodsky was "Cat", as Baryshnikov explains one of the portraits of himself that has quotation in Russian and it's hanged at the BAC centre. Poetry, indeed.
Brodsky/Baryshnikov performance is about death. It's a selection of 44 lyrics of the poet's books, absolutely amazing selected. It's a combination of life lessons and abstract while commemorating death.
At the sound of the word "future", in Russian, mice scurry out and nibble on memory, which has as many holes as cheese. Life can be dangerous, but doesn't matter. In the end, all that's left of a person is a part of speech.

Source: Performance's booklet for FITS 2017
"Baryshnikov has referred to Brodsky as his "university", the man who gave him the higher education his dancing prevented him from receiving", notes Financial Times in the article mentioned above. But this performance captures the universality of the two of them, which can be understand without any translation, because the Baryshnikov-actor movements and tone of voice transmits exactly the poet's fabulous world.
I was like everyone else. I bought flowers to the foyer. I drank. Acted like a fool. I took what was offered, but didn't want what wasn't mine. I extracted  sound from space, playing on hollow pipes. What should I say before the curtain falls?

Source: Performance's booklet for FITS 2017
On the streets of Sibiu, the opinions about Brodsky/Baryshnikov three performances are split between absolutely amazing and outstanding performance and the regret that Mikhael Baryshnikov doesn't dance as much as we would like to see. But he does, as much as Brodsky's poetry about life-death analogy permits him to do. And more then the metaphors of what's happening on stage during the performance, is a discovery of the human body, precisely Mikhael Baryshnikov body, who transfers the lyrics to his own non-verbal language. After all, he is a 69 years old ballet dancer, who let himself be discovered in his mother tongue in a tribute to his dear friend. And that's probably one of the greatest performances of the world, taking into consideration the effort that both of them had to arrive to the Free World. For those who know the artist's work, there are also some others symbols, like Matz Ek's Chair scene – which Mikhael Baryshnikov uses also in Letter to a Man performance, a celebration for the great Russian ballet dancer, Vaslav Nijinski.
Farewell, and don't judge me too harshly. Burn my letters, like a bridge. May your path be clear – cut and brave. Let the stars' tinsel shine for you in the dark. Let there be hope of warming hands at your fire. Let there be blizzards, snow, rain, and the roar of flames. May many successes await you, more then I will have. Be strong and fight. I'm happy for those who may travel along the way with you.

Source: Performance's booklet for FITS 2017
The performance is played  in Russian language. An English translation has been provided for the audience, as well as a Romanian one. Mikhael Baryshnikov says for Financial Times that he only reads Brodsky in Russian, as it allows him "to appreciate the rhythmical excellency of the way Joseph put these things". Brodsky wrote in rhyme in Russian, but at translation is free verse.
Summeries of Poems in English are prepared by Jamey Gambrell. Brodsky/Baryshnikov performance is directed by Alvis Hermanis. Further performances of the show can be seen in Europe.