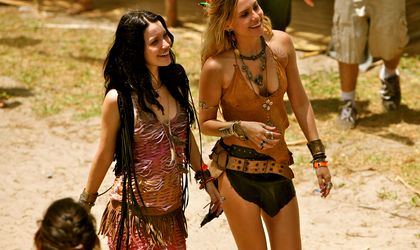 The Days of Brazilian Cinema is set to start next week in Bucharest, between October 1 – 5. A selection of various films, ranging from feature films to documentaries and shorts, will be shown at the Cervantes Institute.  The event, which is this year at its second edition, aims to give an overview of contemporary Brazilian film.
Films will be shown in original version with English subtitles. The selection includes:
O Homem do Futuro (The Man from the Future)
Director: Cláudio Torres
Stars: Wagner Moura, Alinne Moraes, Maria Luísa Mendonça
O Palhaço (The Clown)
Director: Selton Mello
Stars: Selton Mello, Paulo José, Larissa Manoela
Paraísos Artificiais (Artificial Paradises)
Director: Marcos Prado
Stars: Nathalia Dill, Luca Bianchi, Lívia de Bueno
Director: Breno Silveira
Stars: Adélio Lima, Chambinho do Acordeon, Land Vieira
Os normais 2: A noite mais maluca de todas
Director: José Alvarenga Jr.
Stars: Luiz Fernando Guimarães, Fernanda Torres, Daniel Dantas
Director: Rosane Svartman
Stars: Olívia Torres, Lucas Salles, Juliana Paiva
Se eu fosse você 2  (If I were you 2)
Director: Daniel Filho
Stars: Glória Pires, Tony Ramos, Isabelle Drummond
Director: Monique Gardenberg
Stars: Paulo José, Danton Mello, Cleo Pires
Director: Henrique Goldman
Stars: Marek Oravec, Selton Mello, Daniel de Oliveira
Tickets: RON 7; Reservations at cult3buc@cervantes.es or 0212102737
Photo: Scene from Paraísos Artificiais (Artificial Paradises)
The event is organized by the embassy of Brazil in Romania and the Cervantes Institute in Bucharest.