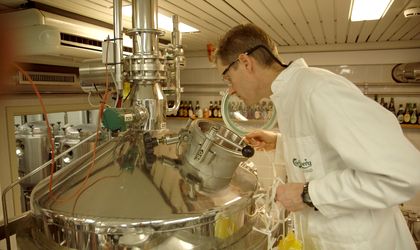 Three years ago, after the serendipitous discovery of a 133-year-old beer, Carlsberg researchers started the process of recreating the historic brew. Combining the world's first pure yeast, and an ancient variety of barley, Carlsberg Head Brewer Erik Lund recreated a beer whose mahogany color and sweet, malty flavour, make getting a taste of beer history even more enjoyable.
Georgeta Gheorghe
The beer was made using a historic type of barley, namely the Gammel Dansk, which Carlsberg sourced from the Svalbard Global Seed Vault on the Norwegian island of Spitsbergen. The barley was prepared for fermentation at the Stauning Whisky A/S in Skjern using floor malting, a historic method which was commonly used 140 years ago. But it is the original pure yeast, Saccharomyces carlsbergensis, which was developed at the Carlsberg Lab in 1883, that makes Carlsberg's rebrewed beer the recreation of what is considered the father of most modern day lager beers.
On Monday, November 14th, Carlsberg brought to Bucharest the beer it recreated at an exclusive event marking the 140th anniversary of the Carlsberg Research Laboratory. Afterwards, brewmaster Erik Lund, who attended in Bucharest one of only a handful of tasting events, told Business Review about the Lab's role and about the processes involved in this exciting and challenging project.
Carlsberg is celebrating the 140th anniversary of the Carlsberg Research Laboratory. What role did it play throughout the years and how would you define it today?
In the very beginning, the reason why the laboratory was created, was to give a scientific basis, a foundation for the founder, Mr. J.C. Jacobsen, to improve the art of brewing.
That was much needed at the time, because the development in natural sciences was not as good as it is today. They did not know about PH, about enzymes, they did not know about yeast. Well, they did know there was a living organism called yeast that was responsible for the brewing process but they were not aware that there were both good yeast and bad yeast, and they became involved in purifying it. Still, there were a lot of things that could be improved. He realized that by having a laboratory that could focus on beer brewing, he could improve the quality of the beer. But, at the same time … to give something back to society. It is written in the lab, when you enter it today, that every discovery made in this lab must not be kept a secret; it has to be published.
That is a little bit hard these days, when competition is different than how it was 140 years ago, when everyone shared knowledge. J.C Jacobsen went to the breweries in Germany to see how they did it, came back to Copenhagen and implemented them. So when he discovered in the lab certain groundbreaking things, he shared them with everyone.
Today we are still involved in making beer better. The intention to always pursue perfection is still there. We are still involved in making good quality beer and are also trying to make the process more environmentally friendly, more efficient, and achieve a higher quality. It is the same thing, but at another level today.
We are still obliged to make it public, though. So the way we balance the things between making it public, and using it ourselves, it by taking a patent. If you take a patent, you can protect the knowledge.
What sort of projects is the Lab currently involved in?
We are working with a number of projects. We are working with barley breeding, to create new barley varieties. To improve quality, but also, create some types that can cope well with the effects of climate change.
The areas that are now typically barley areas, most likely, in the future will face drought, so we are creating barley varieties that can tolerate drought. Secondly, we are conducting research projects related to yeast. We are still making new yeast and perfecting it.
Please describe to us the ingredients, recipe and production techniques of the beer you recreated for the Lab's anniversary. What makes this historic beer so special?
Luckily, we have a very good archive at Carlsberg. We have the old brewing books, so we can see exactly how the beer was created. The equipment used at that time we have not been able to recreate. The beer you drank today was made with our current equipment, made using stainless steel. But the process is the same, and for me that is the important thing. That beers produced by different breweries around the world taste the same.
We knew the fermentation temperature, we knew the water quality, the amount of hops and so forth. There were also a few things we did not know, and we had to do some best-guessing. Must most of it, we knew.
What is the most special thing, about the beer and the process of making it?
The beer for me is special due to the combination of the raw materials, the method and the yeast. They make it truly unique. I have been in business for more than twenty years and, as a Brew Master, I have tasted a lot of beers. Also, a lot of craft beers, there is currently a boom. But I have never tasted anything like this.
What is the beer's most special ingredient?
One special ingredient, is the barley, a very old variety. We went to the Svalbard Global Seed Vault on the Spitsbergen Island in Norway because we saw in the archive this was an old type of barley, that was popular at the time. It is not grown any longer, for good reasons, because there are other varieties that are doing much better. We were happy to receive 10 kernels. We put them in our greenhouse and harvested around 300 kernels. Then we took the 300 kernels and sent them to New Zealand, because when it is winter in Denmark it is spring in New Zealand. So we could crop a few thousand kernels. And we did this back and forth a couple of times until we had a few hundred kilos. It was quite an exercise.
And, of course, the yeast is also special. But the yeast is not giving an enormous – in this case – footprint on the beer. There could have been a negative impact – it could have smelled of rotten eggs, or onion, but it did not. The yeast is unique, but for me what stands out is the malt, which was handmade for this.
In the making process, the most difficult thing was to create the special type of malt. When working with raw materials, the process is difficult. The type of barley we used grows tall and has a poor yield. If you ask a farmer to grow this type of barley, it will be difficult. This was a one-off exercise.
How did you stumble upon the bottle?
We found these very old bottles in the storage room below the brewery. In Copenhagen, the main Carlsberg brewery was closed, and is currently being rebuilt. When they started construction in these old cellars, they found the bottles. That was the interesting part for me. If course, I've drank hundred-years-old beers before. But now, some of my colleagues said: hey, maybe there is live yeast in those! It could be cool to take a sample and see whether there is live yeast in there. To which I said, come on guys, this is a one-hundred-years-old beer. There cannot be live yeast in there. We managed to find a few cells. And you only need one. And secondly, it could just be a contaminant. But we could prove that this yeast was identical to that found in our collection. We had had it for many years. It was put in our collection in the 1940s, but we were not sure this was the original yeast, isolated by Emil Christian Hansen, because it was added to the collection late, and not in the 1880s. We were not sure this was the original yeast, and not a later strain. But comparing the two yeasts, looking at the genetic composition and analyzing it, took a year. And we realized it is the same. But it was the old bottles that sparked the idea.
What is the future for this lovely beer?
This beer is not to be sold. As you saw, at the event you could taste two versions of the beer. One of them, kept in the cask, was made by me in the lab. Jacobsen, our speciality brewery in Copenhagen, made a modern version. It is still with the old yeast, but not with the special raw materials, the special malt or barley, because we had a limited supply, about two hundred kilos of that.
One last question: would you give away the yeast again?
That is an interesting question. And the answer is yes, we are willing to do so. So, if you want the yeast, just let us know.