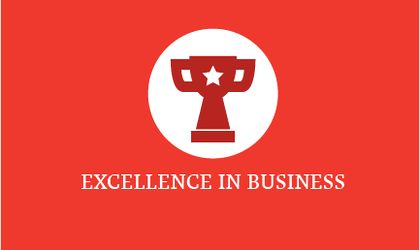 As the 12th edition of Business Review Awards Gala, BR magazine's flagship event that recognizes the outstanding achievements of the business community, will take place on February 27, we want to put the spotlight on the 10 categories and finalists that were selected by the independent jury for their exceptional activity in 2016.
For BR Awards 2017, the jury looked at over 100 nominees and selected 43 companies, entrepreneurs and executives that will compete for a trophy.
Learn how to book your place at the Gala
The Excellence in Business category recognizes the outstanding achievement of a local business over a longer period of time, looking at aspects such as innovative character, development achievements, market share and the overall relevance for the local business environment.
The story of Transavia – the winner of last year's edition
Romanian poultry meat producer Transavia was awarded for Excellence in Business due to its investment efforts for increasing the operations across Romania.
In 2015, the company put almost EUR 25 million to acquire new equipment and to support the expansion strategy. Transavia group recorded a turnover of around EUR 140 million in 2015 and last year, 15 percent of the business was generated by exports to the European Union.
The group comprises eight farms that produce over 70,000 tonnes of poultry. Transavia employs 2,000 people and it controls 314 halls, 24 farms for poultry farms, four farms for grains production, one plant for mixed fodder and three slaughterhouses.
The finalists were selected by an independent jury based on the following criteria:
The strategy for development in the past years
Business growth over the previous year
Unique endeavors to support the local business community
Sustainable development strategy
Top market position
Exceptional business growth compared with peers
The finalists of this category are:
Autonom
eMAG
Regina Maria
Vola.ro
The jurors of BR Awards 2017
Anca Rarau – Marketing Director, BCR
Cosmin Alexandru – Transformation Partner, Wanted Transformation/Entrepreneurship Academy
Istvan Kocsolade – Manager, Accenture Management Consulting
Joshua Burke – Commercial Attaché & Deputy Senior Commercial Officer, US Embassy Bucharest
Marius Ghenea – Investment Director, 3TS Capital
Matteo Patrone – Director for Romania, EBRD
Oana Bulexa – Managing Director, The Practice
Oana Craioveanu – CoFounder, Impact Hub
Silviu Stoica – Partner, Popovici Nitu Stoica si Asociatii
Sotiris Chatzidakis – Executive Vice President, CEO Clubs