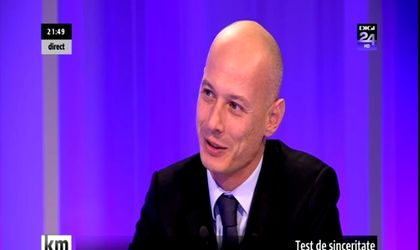 The deputy governor of the National Bank of Romania (BNR), Bogdan Olteanu, has been detained on Thursday night by anti-corruption prosecutors, said the National Anti-corruption Directorate (DNA).
UPDATE: Olteanu was placed into house arrest, following a decision issued by judges on Friday. He is going to resign from the BNR on Monday, according to his lawyer.
Olteanu is accused of influence peddling, in a file involving the controversial businessman and former media mogul Sorin Ovidiu Vintu, who is serving a jail sentence of 6 years and two months in a separate case.
Prosecutors accuse Olteanu of having received a bribe of EUR 1 million as well as marketing and consultancy services for his political campaign from Vintu. The DNA said that Olteanu got the money through an intermediary at the HQ of a political party. He was a member of the PNL at that time.
Vintu spent this money so that Liviu Mihaiu could be appointed as the governor of the Danube Delta.
Mihaiu was appointed in this role in September 2008. At that time, Calin Popescu Tariceanu was PM, while Olteanu was the head of the Chamber of Deputies. In a Facebook post, Mihaiu rejected the claims that his appointment in this role was part of any kind of transaction.
Olteanu has allegedly admitted that he met with Vintu to talk about the appointment of Mihaiu. However, the BNR official rejected claims that he took money from the businessman, according to judicial sources.
Prosecutors will ask on Friday the judges at Romania's High Court to issue a preventive arrest warrant for Olteanu.
Several other people are investigated in the same case.
Ovidiu Posirca