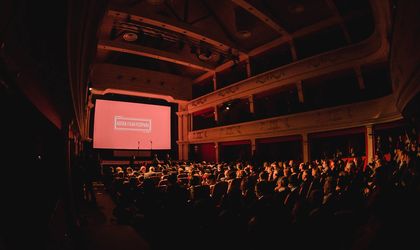 Sibiu is considered one of the cultural spots of Romania, with a cultural agenda well designed and remarkable implemented by the locals, with the help of all sorts of authorities and sponsors. But besides the fact that every single weekend a festival is happening in Sibiu or any other form of cultural act and the cultural tourism seems to increase, there is still a lack of spaces for performing arts.
The situation is utterly exposed by the leaders of this community, especially by the director of Radu Stanca National Theater and Sibiu International Theater Festival, Constantin Chiriac. He struggles for a while now to find funds for a new cultural venue, and the discussions and negotiations seem a bit rigid.
But when it comes to cinematic experience, Sibiu community and cultural fans suffer. Currently, there is only a silver screen in the city, but yet, a dozen film festivals are in the city's agenda. In summer time, both city's main squares, Piata Mica and Piata Mare, are a great place for film projections, but in autumn, the weather is a bit chilly, so it's not an option, unless we have outside a late summer – which was the case last week, when the Astra Film Festival took place.
Nonetheless, the event was held in other locations – like Gong Theatre, Thalia Hall, Auditorium Hall of the Faculty of Medicine, as well as the festival's house from Piata Mica. Officials say that over 20,000 people have attended this edition of the festival, but I find it difficult to believe, due to the rather small presence in the screening halls. Maybe I wasn't in the right hall so that I didn't see the numerous audience – with some exceptions. But what can I certainly confirm is the good selection of documentaries, divided into very interesting sections. One of a kind was documentary films and news in the POST-TRUTH era.
Their argument was that "Documentary film has become known as the cinema genre that faithfully renders reality. Given that the production of documentary films has become more widespread over the last two decades and directors use a series of cinematic tools, the questions and discussions in relation to truth or untruth in documentaries have multiplied." For the entire selection, read here.
Furthermore, the kids seemed to be in everyone's attention at this edition of the festival, with Astra Junior having a very balanced program for them. Also, the dome-like screen was a sensation, too. The program offered a selection of unique projects that introduce a journey beyond the limits of reality, at the crossroads between technology and art. The joint effort of painters, photographers and digital artists presents a new way of experiencing art in Samskara, Art universe, Circles of Time and The Game. Classic music themes or eclectic mixes (Music from the Cosmos – a Visual Concert and Jules Verne's Voyages), as well as dance, classic tango or with various influences (Tango 360), can be appreciated as exceptional productions in the dome theatre set up in Piata Mare.
My perspective
I was very sorry that I couldn't attend the entire festival, especially because Sibiu has a different vibe when it comes to long-term festivals. The program was quite good and as far as I heard, the Q&As were quite interesting. Also, this year a series of Romanian documentaries were launched, therefore presented at this festival. Some of my personal expectations were exceeded. Cosmin Bumbut and Elena Stanciu's The Last Kalderash is an impressive story of a gypsy family who struggles to earn money because their main job – an old, popular craft, isn't needed anymore. In international terms, I've cried at the documentary about the Chinese "artists" who paint in oil copies of the greatest and most famous works of art which are sold in especially in Europe at very high prices compared with the small profit these so-called artists are making. A complete review of the documentary China's Van Goghs can be read here.