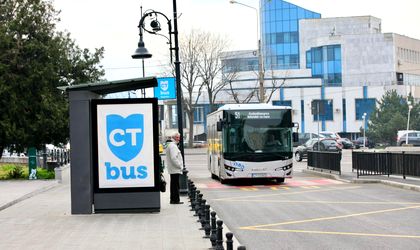 The public transport operator of Constanța Municipality, CT BUS SA, implements SAP S/4HANA solution in order to make internal expenditures transparent and to improve the reporting process. In 2018, CT BUS carried over 20 million passengers, being declared the best performing public transport company in Romania in that year.
SAP S/4HANA is a future-ready enterprise resource planning (ERP) system used by over 14.500 clients all over the world, with built-in intelligent technologies, including AI, machine learning, and advanced analytics. The solution will help CT BUS to ensure transparency in spending public money, increasing the company's image, improving the relationship with employees and with the City Hall of Constanța – the only shareholder – by making operating costs transparent.
"Migrating to an intelligent ERP system is an important step for CT BUS in achieving the goal of becoming an efficient company and offering passengers modern transport, at European standards. The SAP S/4HANA solution will help us to optimize our operating processes in multiple departments, so that we can continue the development of the transport network in Constanța", added Bogdan Niță, General Manager of CT BUS SA.
CT BUS, with a fleet of over 200 buses and 700 employees, will use the SAP S/4AHANA system to optimize its accounting, sales, supply-chain, operation and maintenance fleet, human resources and payroll departments.
"SAP S/4HANA is the basis for accelerating performance through digitization, whether is private companies or public institutions. Benefiting from the latest technologies, CT BUS will be able to manage its resources in a much more efficient way to fulfill the mission of offering the best services to the citizens it serves", said Cristian Popescu, Managing Director of SAP Romania.
—
"During the SAP S/4HANA implementation project at CT BUS, we met the most enthusiastic and involved team in our public sector projects. We felt a total collaboration and openness and we managed to implement even the most elaborate processes, such as the payroll module for drivers and the maintenance of the companies fleet. We managed to obtain an ERP system customized to the company's needs ", mentioned Razvan Gîdei, General Manager, Red Point Software Solutions, the SAP partner that managed to implement the system in 12 months.