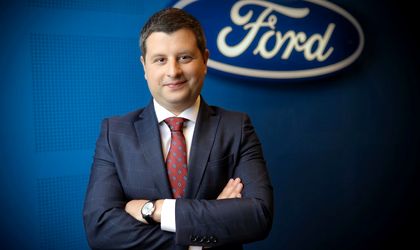 Cristian Prichea (34) has been appointed the Managing Director of Ford Romania's National Sales Company, where he will directly lead the local import and sales operations. It is the first time a Romanian is named in this role since Ford Romania took over import and sales activities. 
Prichea will replace Attila Szabo, who has led Ford Romania for three years and our months and will go on to lead Ford in Hungary and the Czech Republic.
Cristian Prichea is an economic engineer specialised in mechanics, a graduate of the Polytechnic University of Bucharest, and has been working for Ford Romania since 2010. From 2016 until now, he has worked for Ford Europe at the Koln offices, in the Sales Coordination Department for the entire European market.
"I am very glad to be back with the team in Bucharest and to restart collaboration with the entire network of authorised distributors in the country. We will begin this journey in a dynamic period, marked by the many new products we will launch. I have all the commitment and energy to work with our team, employees and dealers, to maintain Ford at the top of new car sales in Romania," said Prichea.
Ford's total investment in Romania goes up to about EUR 1.5 billion, of which 200 million have been invested in the manufacturing of the new Puma hybrid model, which will begin this year at the Craiova plant.
Ford Romania has 4,900 employees and plans to grow this number to 6,300 by the end of this year, through a major recruitment programme carried out in the Craiova area, to support the production of the Puma model.