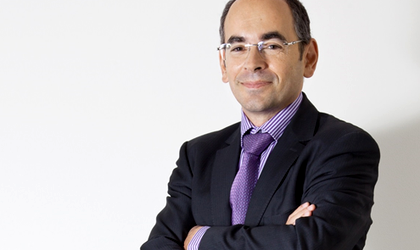 The Romanian automotive industry is a positive example at a European level, general manager of Groupe Renault Romania and chairman of the Romanian Automotive Partnership (PAR) Yves Caracatzanis said on Tuesday at the first edition of the Romanian Automotive Summit. 
According to Caracatzanis, the Romanian automotive industry is presented as a positive example at European level, because it has created within the past 20 years more than 200,000 jobs. "This contributed to Romania's integration in the European economy. Romania's competitivity is known at a global level. The Romanian car park stands at 6 million vehicles, but with an average age of 13.5 years compared to 9.7 years, the European average. In 2016, we have a pretty large sales rate for new cars. In return, at second hand level, the share is five used cars for a new one. All measures to support the car park are good and welcome for both Romania and the car industry," Caracatzanis said at the event.
The Groupe Renault Romania also pointed out that the conversation about the Romanian automotive industry must also include ways of improving things. "Six years ago the Romanian Automotive Partnership was created as a working group made up of important investors and automotive industry employers, with two representative associations – ACAROM and AHK Romania. In all these years we discussed the realities of the industry we are a part of. The industry takes place both in Romania and in other countries.We are trying to identify what is missing and to prepare the future. This depends on the Romanian legislation. Currently, in Romania there are R&D centres, but tomorrow is uncertain and we must build it together. Together we must anticipate all opportunities to continue the auto industry in Romania. We must see what the challenges and the opportunities to build a future are," Caracatzanis said.
The Romanian Automobile Manufacturers Association (ACAROM), the Romanian-German Chamber of Commerce and Industry (AHK Romania) and the Romanian Automotive Partnership (PAR) held on Tuesday in Bucharest the first edition of the Romanian Automotive Summit.