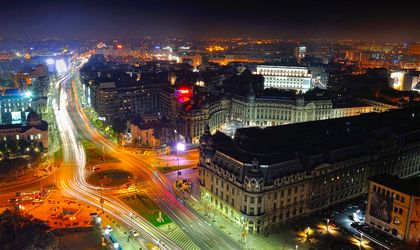 It's beginning to look a lot like Christmas! The frosty air and the events announce it and here are some of our suggestions.
In Mall Promenada the Food Truck Festival Xmas Edition takes place this December. It's a caravan dedicated to street food that aims to promote the fast, but healthy food. There will be food from Animo Caffee, Arrosticini, Barmobil, Burger Van, Camionetta, Circus Pub Truck, Delicii pe Roti Waffles & Coffee, La Finca Alioli Van, GRANO Foodtruck, La Nu Stiu Cine, Meat Busters and Fish ad Bread: burgers, pizza, pasta, paella, sweet and salty pancakes, waffles and coffee, warm  sandwiches and seasonal products such as mulled wine and the Romanian cake cozonac.
Also the classic Christmas hot chocolate is on the menus. Acuarela hosts "Christmas Chocolaterie" during December 9 from 12 PM until December 23. There are 10 popular hot chocolates: Choco-Christmas (with biscuits, cinnamon and orange peel), Marshmallow Choco, Choco Berries, The Villegean Chocolate with sea buckthorn, Sour-cherry Choco, Nostalgic Choco, Red Hot (Choco) Chili Peppers, Choco-gingerbread, Cioccolato formidabile and  Coffee Choco.
Sticking to food events, The food and design fair will take place at Piata Amzei until December 18. For two weekends, there will be a mix of design objects, clothes, jewelries or toys made by Romanian designers. The participants are Detox+ Market, 198, Ceramic Loft, Simplus Loft, Atinge Organic, BumbagRCarla Szabo, Cosânzeana, combic.ro, De Ceramica, designforkidz.com, Design&After, Dear Sender, EcoSocial Atelier, Lavender Garden, Grapho_matHoni, BoniesJoulery, Krack, Laguna, Lana Dumitru, L' Atelier des Fêtes, LOOT, MicroTerra PULSE, The White, The Green, The Lamp, Velio Gifts, Vika Tonu Design, Wineful, + Pop-up Store The Institute.
Christmas is also announced by a carols' concert at Romanian Atheneum on December 11 from 17:00. The concert will be held once with the anniversary of Carmen Petra Basacopol (90) and Felicia Donceanu (85). There will be works of I. D. Chirescu, Gh. Cucu, N. Lungu, L. Teodorescu-Ciocanea, P. Constantinescu, E. Grieg, G. F. Handel and the choir of Philharmonics "George Enescu", together with the leader Iosif Ion Prunner and the pianist Andrei Licaret.
Last, but not least, the elections for Deputies Chamber and Senate take place this Sunday. So go vote!
Georgiana Bendre