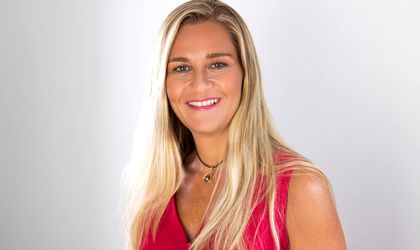 The new CEO of Vodafone Romania, Murielle Lorilloux, says the company will increase its headcount, which currently stands at around 2,500, as part of the plans to implement a new business strategy that relies on three pillars.
"I've been in Romania for three weeks. I'm really impressed and happy about what I've seen so far," said the executive, adding that her three children are staying with her in the country.
She said that her mandate's priorities will be the usage of big data, the expansion into homes and further development of the digital operations. She said that the company aims to further leverage its current assets.
On big data, she explained that the telecom operator has close to 10 million customers and the company will try to get deeper insights and use analytics in order to provide more personalized services. She says there will be a "more sophisticated approach for each customer" and the that the offers are starting to become more segmented.
On the expansion into homes, Lorilloux said that the operator will focus more on providing services, including content on demand, for families. She says that there will be a greater emphasize on video content, although she did not say clearly if Vodafone plans to sign new deals with streaming platforms or to launch its own operations in the TV industry. The company already has distribution deals with HBO GO and Netflix. "We will continue to do this," said the CEO on the plans in the content segment.
On digital, the CEO said that the ultimate goal is to provide better productivity tools for companies and individuals, citing the advent of the fourth industrial revolution that will bring a further integration of tech in the economy.
Lorilloux said that Vodafone Romania is a "very strong company", with a "very good quality of the network" and a "very good leadership team".
Asked during a press meeting with journalists what her leadership style is, she said she is listening a lot and focuses on fast decision making while ensuring quality of execution.
Talking about the investment plans for 2018, she said the company will make "double-digit investments" to the tune of millions of euros to expand the network, develop the three pillars and hire more people.
"I would not expect new operators to come," speaking about the local telecom market, adding that the average number of operators across Europe stands at 3-4.
Asked about 5G investments, she explained that this is a long-term arrangement for the local market.
For instance, companies are waiting for telecom regulator ANCOM to tender the spectrum for 5G and this should happen in theory next year.