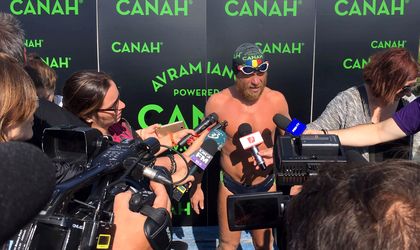 Romania has, for the first time in the history, a Romanian nominated at the category Swimmer of the Year in free waters, by World Open Water Swimming Association based in California, US.
Avram Iancu, the 41-year-old librarian, is the first person in the world that swam across the Danube's length (2,860 kilometers), without protection suit, achieving this performance in 89 days.
His nomination has been announced during a press conference organized by the CANAH representatives, the Romanian company that supported Avram Iancu in this expedition.
"This performance in this field is similar with an Oscar nomination for movie, direction or as an actor. Avram's expedition was and is for us, the people at CANAH, a true ambition, courage and determination lesson. When Avram told us that he wants to swim all Danube's length without a protection suit we saw in his eyes that burning desire that determined me to support him in all this expedition. We have been involved body and soul,for 89 days. It has been a great experience," said Dan Lazarescu, director of CANAH Romania.
"I can only say that I am honored and happy that such a performance succeeded in making waves not only in Romania, but in Europe and USA, and the nomination comes to confirm that my win was, indeed, an exceptional one. I trust in the fact that I will win and I will be named Swimmer of the Year in a global level, but this thing can be possible only with Romanians' support, because we are talking about a public voting system. One can vote here: https://www.worldopenwaterswimmingassociation.com/2017-wowsa-awards/", said Iancu.
Avram Iancu is the first Romanian in the history that made it on the World Open Water Swimming Association's list of nominations, alongside other 12 athletes from the entire world, each one of them with exceptional results. The nominations are made by a jury formed of entrepreneurs and former champions at contests that involve swimming in free waters.
The winner will be announced on January 1 2018, in a ceremony that will take place in California.
Romanita Oprea