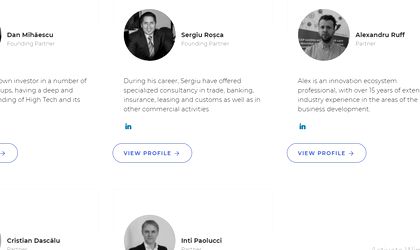 Venture capital Gapminder, which targets tech start-ups, has launched on the Romanian market with an initial investment budget of EUR 26 million financed from the EU sources.
The fund said that in the next years it will provide seed financing up to EUR 1 million and potentially another EUR 3 million for each company as follow-up rounds.
Gapminder will also provide up to EUR 100,000 in first rounds of financing or in the acceleration phase of start-ups. The fund targets early-stage companies in IT services and software, cyber security, artificial intelligence, digital transformation, healthcare IT & MedTech and FinTech.
The fund will also have a business accelerator component in Bucharest and Cluj called Techcelerator.
" The innovative tech start-ups ecosystem in Romania has a huge potential and is often overlooked, thus our ambition is to support it by investing in solutions with bright future, in projects and companies scalable at global level. We help them grow by fueling founders with funds and vast experience of mentors enrolled in the program", stated Dan Mihaescu, founding partner of Gapminder.
Gapminder is the first VC fund created following the selection made by the European Investment Fund (EIF). The Fund is mostly financed via Operational Programme Competitiveness 2014 – 2020 and co-financed by The European Fund for Regional Development.
Aside from Mihaescu, the initial team of the fund comprises Sergiu Rosca as founding partner and Alexandru Ruff, Cristian Dascalu and Inti Paolucci are partners.