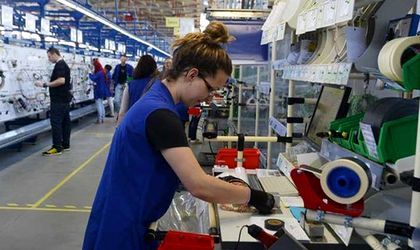 The US group Delphi Packard, which has been present in Romania for over 15 years, has announced it will shut down its factory in Moldova Noua, which employs 698. The company, the biggest employer in the area, laid off in 2016 many of its employees and said the factory closure was due to the scarcity of labour force in the region.
According to a statement, the lack of labour force made the company reach the decision to shut down its factory. In 2016 the company had a turnover of RON 378 million.
"After the 19 January meeting with representatives of the union, the management of Aptiv Electrical Distribution Systems Romania communicated the fact that the Moldova Noua factory could not carry out a full project due to constraints caused by the limited labour force available in the region. In order to carry out a complete project specific to our type of industry, based mainly on labour force, there is a need for a larger number of employees than that we managed to attract in the region. We were thus forced to take the decision to adjust our operations in Romania," company representatives said in a statement.
According to the statement, the factory's activity will stop at the end of March and will impact its current employees. "We will take all steps needed together with the parties involved to minimise the negative impact and to look for solutions that can help employees affected by this measure," the company's officials said.
According to the Caras-Severin mayor, "it is sad what will happen. I don't know precisely what the reason is, because at the start of 2016, at Delphi there were 2,300 workers (…) It is a pity that the county will have a negative impact of almost 700 unemployed,"  Matei Lupu said.