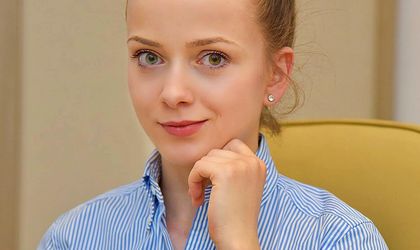 Last November, the Foreign Investors Summit (FIT) organised by Business Review attracted not only the most important investors on the lookout for the next promising venture, but also ambitious businessmen and businesswomen looking for opportunities to grow their businesses even further. We spoke to 24-year-old Ioana Rebenciuc, manager of the TISA Group, a family business active in the spa and wellbeing sector, about the reasons behind the group's sustained growth as well as about the advantages and disadvantages of running a business at a young age.
Georgeta Gheorghe
The TISA Group is offering over 200 beds across five accommodation units: TISA Villa, Tisa Hotel and Tisa House in Baile Olanesti and Villa TISA in Ocnele Mari. How did the TISA Group start?
It started in the 1970s, during the communist period, when my grandparents put up the business, starting with a small guesthouse, where they would receive tourists for the summer season. Their strong entrepreneurial spirit was manifested in different types of small businesses and passed on to their children, who focused on tourism. The choice came naturally, as health tourism is the main economic activity of both Baile Olanesti and Ocnele Mari and has been booming in the past years.
My parents built and put together the TISA business, to be passed on to the children in the future. I am managing the TISA Group, with a focus on new investments. My brother is studying medicine and will assist the family business by specializing in balneology.
European funding has played a significant role in your economic evolution. What was your strong point when competing for it?
With many years of experience, we understood how expensive it is to obtain financing. So, when the opportunity of a European non-repayable grant came along, we took it was a great opportunity.
European Projects come with a lot of hassle, I believe many people are scared by the bureaucracy, unclear regulations and different speculations.
We worked consistently through all of that and managed successfully. We strongly believed in the European Union funds, even in the period of economic crisis. We are living proof that the system does help whose who work, should they persistent in their ideas and willing to adapt to each new regulations.
How are you planning to attract more funding?
We are again looking towards loans and European Funding, which has for years been our recipe for success. We are also taking in consideration collaborating with investment funds, should a suitable opportunity come up. Our aim is to take the business to the next level.
Was 2016 a good year for the TISA Group?
It was an amazing year for us. We successfully launched TISA Spa Resort, our new and largest investment of EUR 5.5 million, which has been received with great enthusiasm by our customers. We are looking forward to 2017, with many more plans ahead of us.
You are managing the TISA Group. What is your background? What are the advantages and the challenges that come with a career in business at such a young age?
I have completed two Bachelor degrees, in Economics and in Political Science. I have studied management and leadership and developed an international business view through multiple projects that I participated in. Also, I am a certified massage therapist, specialized in spa culture.
I probably received my best education within the family business. For years I have taken my parents' example of work ethic and management wisdom. I have gained my experience in the hotel working side by side with the employees.
After receiving my bachelor's degree, I jumped right in the business, taking over the operational development and management of TISA Spa Resort.
Therefore, my first job, at 23 years of age, was managing a team of 45 people, all newcomers in a structure that was only beginning to take shape. It was tremendous work, but I managed successfully.
There are several advantages of taking on business at such a young age. First, you are opened to learning and ever changing your perspectives over your ways of work. Secondly, you can bring a fresh new perspective on business. Moreover, you are more flexible in taking necessary risks and are rapidly learning from mistakes. Furthermore, you have the energy to pull things through – at 24 we still believe that we're able to conquer the world with enough inspired work.
As to disadvantages: you lack experience, so you have to improvise and learn really fast in order to cope with the daily challenges. In my case, having inspiring mentors around helped me greatly. Then, it's harder to gain the respect of the older employees – however, working side by side with them will do the trick. Also, you have to be very well prepared in order to gain respect of potential business partners. Not least, when you enter a business young, you have very limited leisure time, it's business all the way.
I've got to admit, it's really hard work, but it's highly rewarding. Working alongside amazing colleagues, understanding the clients' satisfaction and need for our services, makes me push myself ever harder. Tourism is indeed a beautiful and inspiring industry.
What are your plans for the future? Both personally and for your business?
Our major plan is to build a four star hotel directly linked to the spa and are already looking for funding opportunities.
Also, I plan to completely delegate the operational management of the business and focus more on developing the TISA brand, which includes integrating certain operating standards and promoting the concept as a whole.
Personally, I wish to grow the business ever more efficiently and to share my knowledge with ever more people. In the following years I wish to set up a company that would offer complete consultancy services in the field of wellness, with full technical advice for those who plan to build or already own spa facilities that include pools, saunas, renewable energy mechanisms. It will include aspects such as management, operational and soft skills consultancy as well.