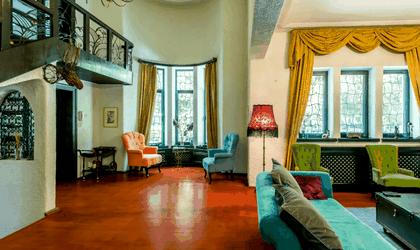 Airbnb is becoming increasingly popular in Romania, and there are hundreds of properties on the platform just in Bucharest. Check out a few of the best homes you can find in the city: 
Arcul de Triumf Villa – up to 10 guests 
This beautiful interbellic villa is located in a great area of the city, close to the biggest park in Bucharest, Herastrau and full of good restaurants and bars. The villa has all the facilities you can think of, including Apple TV and entertainment system, a washer and a dryer, a nice backyard with a barbecue and comfy, quality mattresses in every room.
Designer home close to Old City – up to 6 guests 
The apartment features two separate rooms that can fit up to 6 people, and it is a mere 10 minutes' walk away from the Old City Center. There's an open balcony that offers a spectacular a nice view of the Revolution Square, while not being too noisy as it's not right on the main street.
Historic Center Loft – 2 guests 
This 75 sqm attic apartment, perfect for a couple, is on a quiet street near the Old City, right next to the History Museum and in walking distance to attractions like the Parliament Palace and the Cismigiu Park. It offers Apple TV, Netflix, and a library full of art and fashion magazines.
House in the Park – 2 guests 
Another studio in the center of Bucharest, this time located right by Cismigiu, Bucharest's oldest park. It is decorated in Romanian traditional style and many objects in the apartment are hand crafted by traditional artisans or by the host herself. The studio has a fully equipped kitchen, as well as a collection of award-winning Romanian films on DVD.
Vintage Suite (parties allowed) – up to 12 guests 
If you're planning a party in the near future, you might want to check out this flat, which is perfect for a group of friends – just make sure you book it well in advance to make sure it's available. The apartment is located in central Bucharest, in Romana Square and the building even has a VIP spa.