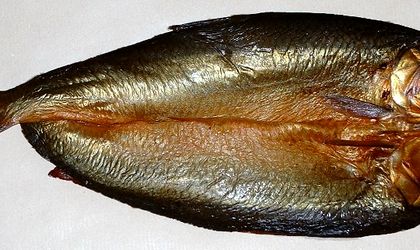 The Danube kipper is Romania's last entry on the list of products officially recognized at European level. The kipper has received the European Commission's approval to become a protected geographical indication product.
The Danube Kipper is a wild fish that migrates from the Black Sea to the Danube. The species can not be grown in aquaculture and is captured only during migration on the Danube.
An average kipper has 250-400 grams and 25-30 centimeters in size and is recognized as the richest fish in fat in the world compared to its size. The fish is prepared in its entirety after cleaning, salted and cold-smoked after an old method, from the defined geographical area.
After preparation, the kippers are golden and metallic, due to the smoking process.
For the people living in the Danube Delta, fishing is the main and oldest occupation. This activity is well-rooted in the Danube Delta culture, being a characteristic feature for the tourists who visit the area.
The kipper is the fifth Romanian food products protected in the EU after the smoke-dried novac from Barsa Country, the cheese of Ibanesti, the Salami of Sibiu and the plum jam (magiun) of Topoloveni. In total, 1,440 protected products are registered at EU level.