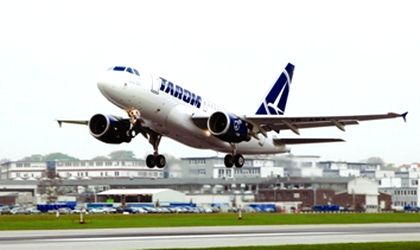 Romania's flagship Tarom's number of passengers recorded a 1 percent increase in 2016, up to 2.41 million, against the background of the retiring of the two Airbus A310 planes this autumn. As a consequence, Tarom is now ranked third among Romanian airway companies, behind Wizz Air and Blue Air.
Romanian-owned Blue Air increased its passenger numbers by 80 percent to 3.59 million closing in the gap on the market leader Wizz Air. Last year, Wizz Air recorded a 23 percent increase in traffic on the Romanian market, up to 5.5 million passengers.
Blue Air recorded an advance on the back of an increase of its fleet from 15, in 2015, to 24 currently. Moreover, last year the company also introduced new flights on 29 routes. In September and October 2016, Tarom retired two Airbus A310 planes, which had been purchased in 1992. In November of last year former Minister of Transport Sorin Buse sais the authorities were negotiating with Boeing and Airbus to replace the entire Tarom fleet in the future.
The newly-appointed Minister of Transport Ravzan Cuc, stated recently that, from the RON 10 billion national sovereign fund, to be set up by the Grindeanu Government this year, Tarom will purchase 30 new planes in the coming years.
In June las year, Tarom was officially ranked third among airways operating in Romania, five years after losing the position of leader to Wizz Air. In terms of passenger numbers, Ryanair is ranked fourth.
According to data released by the National Institute of Statistics, 7.15 million passengers transited Romanian airports in Q1, representing a18 percent year-on-year increase.
Georgeta Gheorghe