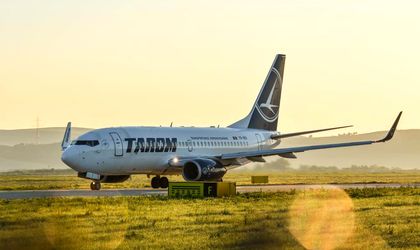 The head of state-owned airline Tarom, Eugen Davidoiu, has resigned on Monday, the same day when the Control Body of the Prime Minister was set to start a review of the company's activity, according to media reports.
Davidoiu, who took the helm at Tarom in early February, suggested on Sunday that he doesn't have any reasons to step down.
"Why should they ask me to resign? Because I brought in two new planes? Because I tried to make the company more efficient? Because I made some interest groups nervous?" Davidoiu told Digi24. He added that the would eventually leave because he was "fed up".
The outgoing manager explained that Tarom has lost "hundreds of millions of euros" in the past decade. He went on to say that there are foreign state companies that want Tarom to "disappear."
Meanwhile, PM Mihai Tudose met on Monday morning with the minister of transport, Razvan Cuc, to talk about Tarom's situation, according to sources quoted by Agerpres newswire.
On Sunday evening, the PM said that Tarom has to become profitable and that the company will not be closed or sold. Tudose said the company had 2,000 employees, most of them in support departments.
"If there were 1,000 pilots it would have been good, but there are a lot in these support departments, such as marketing," said the PM.
Under Davidoiu's mandate, Tarom announced that it would resume long-haul flights to China and the US as the company would acquire new planes for these routes.