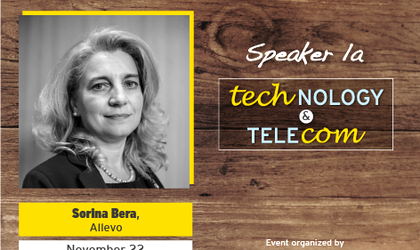 Sorina Bera, CEO of Allevo, will speak during the eight Focus on Technology & Telecom Event, organized by Business Review on November 22.
She will join TRACK2 focused on Technology driven innovation for any company, looking at game-changing models reshaping their industries from within.
Bera was appointed CEO of Allevo in March 1, 2016. She joined the Allevo team at the beginning of 2003, has coordinated the services team as of 2006 and became one of the designated administrators of the company 5 years ago. Until her appointment as CEO, Bera has also been managing the relationships with Allevo's customers and business partners.
Are you a IT&C professional interested in the latest telecom innovations? Request a free invitation for the event at events@business-review.eu