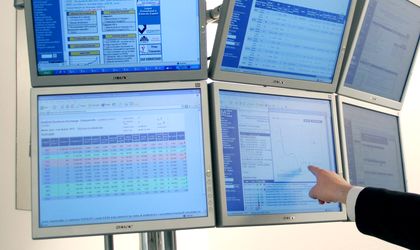 The shares transactions' value of the main capital market increased by 141 percent last week, compared with December, to over RON 232 million, according to the Bucharest Stock Exchange (BVB).
Banca Transilvania leads the top of the most transactioned companies, with RON 60.1 million, followed by Fondul Proprietatea with RON 50.04 million and EBRD with RON 30.2 million. On the forth and fifth places are Romgaz and Sphera Franchise Group, with RON 16.5 million, respectively RON 14.1 million.
The increase in the alternative transactioning system is by over 10 times, to RON 6.41 million.
Since  the beginning of the year, BET-NG index of the 10 companies from energy and units, increased the most, since the beginning of the year, by 7.4 percent.
The main index BET, which shows the evolution of the most liquid 13 companies, climbed by 6.53 percent, BET-Plus, which shows the evolution of the most 37 liquid companies at BVB, increased by 6.25 percent and the BET-FI and SIFs registered an increase by 5.49 percent.
The blue-chip index BET-XT of the 25 most liquid shares, registered an increase by 6.24 percent.