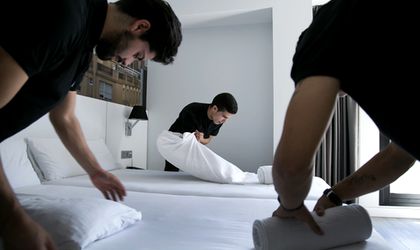 The Romanian seaside will officially start welcoming tourists in the long weekend of May 1, and people are eager to celebrate the arrival of summer at the beach. Each year, however, seaside business owners are having an increasingly harder time finding seasonal workers to provide the essential services of the tourism industry. As a result, they are urging the government to make it easier for them to hire people from other countries. 
Restaurants, hotels, clubs and beach bars are all hit by the ever-growing workforce crisis. This lack of personnel ultimately turns away tourists who are disappointed by the low quality of services they find in Romania's seaside resorts, and existing employees are overwhelmed by the pressure of having to do too much at once, so much that some of them may not even last to the end of the season.
Why is there a workforce crisis in Romania's tourism industry?
There are both short-term and long-term, systemic causes, according to Anca Nedea, executive director of the Mamaia-Constanta Business Owners' Association: "In terms of education, besides the fact that vocational schools were closed down, there is a lack of respect for this type of work due to the fact that after the fall of communism, every parent wanted their child to get a university degree, because in the previous 50 years the country had been led by uneducated people and a frustration understandably grew in the population. Private universities also completely destroyed the quality of certifications as they became "degree factories" where anyone could get a diploma regardless of their previous academic results."
Romania's business environment is not in the best shape and this is also felt by employees – fear, desperation, instability, uncertainty for the future are all imprinted in the minds of workers, according to Muhammad Murad, the leading investor in the Romanian seaside and the president of the Romanian Tourism Business Owners' Federation.
"When Romanians go to other countries, they work really hard. Those who stay in Romania don't put as much effort into it due to the general state of the nation and the lack of stability. Romanians who want to work hard tend to go abroad, where there are more rules, more clarity and they have a more certain future," added Murad.
Recently, two measures taken by the state significantly impacted the tourism industry, says Anca Nedea. "First, the transfer of taxes from employer to employee actually put more pressure on an already impoverished private sector. Employers were still the ones burdened by these taxes – they ended up having to increase the minimum wage to a level that was hard to sustain. Secondly, salaries in the public sector increased so much that state institutions actually became competitors of the private sector, so people preferred to get state jobs which are easier, better paid and more stable."
Ioan Micula, owner of several hotels in popular seaside resorts such as Mamaia or Neptun, says that a striking cause of the workforce crisis is the existence of a black market: "Those who are paid off the books are unfairly competing with those employed legally, which is why these problems appear."
What are the solutions?
For Muhammad Murad, the best way to cover the shortage of workers is for businesses to hire more foreign workers: "We're in a free, open market – we see that other countries are bringing in foreign workers and that those workers are able to obtain citizenship much easier and quicker than they can in Romania. Romania allows only 10,000 work permits per year for foreigners, but we need around 300,000."
The Romanian state requires each foreign worker to be paid at the level of the median salary (around EUR 500), while Romanian workers start at the minimum wage (less than EUR 300). Murad says that the government should give an order to allow all workers, foreigners or nationals, to be able to work under the same rules in order to make it easier for businesses to hire foreigners where Romanian workers are not available, particularly in jobs that require physical work.
Murad also believes that there's little hope of bringing back workers who left Romania to go to other countries, but that there is something the government could do to encourage young people and students to go into the hospitality industry: by giving them tax breaks for seasonal work. "Encourage students to work at hotels during their summer holidays by taxing them at half the level you would tax a regular contract worker – this would effectively create opportunities for on-the-job training and make up for the lack of vocational schools in the country."
Photo: dreamstime.com