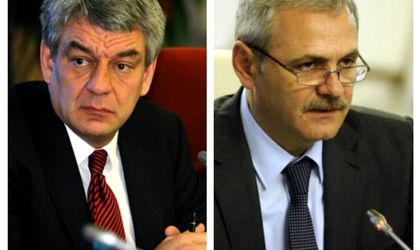 PM Mihai Tudose confirmed on Monday evening that he will resign following a landslide vote in a special meeting of PSD's leadership to withdraw the political support for his government.
This was the second PM that loses the support of the Social Democratic party (PSD) in one year since the party got to power. Last June, Tudose had replaced Sorin Grindeanu, whose government was toppled in Parliament by the ruling coalition PSD-ALDE.
"I don't regret anything," Tudose told journalists following the meeting of the National Executive Committee of PSD. Out of 69 members, four social-democrat voted to keep Tudose in power, while another four abstained. The PM didn't vote.
Deputy PM Paul Stanescu, a close ally of PSD head Liviu Dragnea, has been tipped as interim PM.
According to media reports, the PSD will submit on Tuesday the proposal for a new PM to president Klaus Iohannis. As part of the changes in government, deputy PM Marcel Ciolacu has also stepped down.
The PSD meeting was initially scheduled for January 29, but it had to be held on Monday after several PSD organizations across the country said the political tension within the party reached breaking point. The conflict erupted after Tudose asked for the resignation of the minister of interior, Carmen Dan, an ally of Dragnea.
Dragnea said that PSD's top brass voted to oust Tudose because "there is a conflict between the party and the government, but also within the government."
The PSD head said that in his opinion the government should not be restructured. He added that some ministers "lied", suggesting they will be removed from the government. He didn't mention any names.
Dragnea said he hoped president Klaus Iohannis will respect the Constitution and approve the new PM designate as the ruling coalition PSD-ALDE holds the majority.
"It looks that I have bad picks," said Dragnea, after the PSD dropped the support for two PMs.
Tudose accused Dan of lying to him after she had asked the head of Romania's police to step down. The minister of interior made this move after one police officer was accused of molesting children in a dramatic case that was covered by the media.
In short, Tudose said that the person proposed as replacement for the outgoing chief of police didn't want the job, although Dan said that he had accepted the top position.