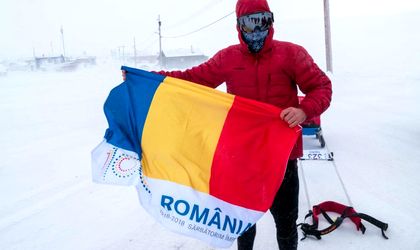 Romanian Tibi Useriu has won the tenth edition of the ultramarathon Arctic Ultra 6633 for the third year in row. He became in the process the only one in the world who succeeded to win the race of 618 km three times.
Bistrita-born Useriu crossed the finish line on Friday morning at 1:24 AM Romanian hour, according to aimx.ro.
He led the race from the beginning until the end, in spite of frostbites.
After seven days of the toughest marathon worldwide, Useriu won for the third time.
"Tibi Useriu finished the 2018 edition of the marathon 6633 Arctic Ultra on the first place during blizzard," said the organizers of the event.
On March 9 at 8:30 PM Romanian hour, four Romanians started the race of  6633 Arctic Ultra, but three of them dropped it in the first day of competition due to health issues and extreme temperatures near the North Pole. The only Romanian who stayed in the race was Useriu, who took the lead since the beginning.
"I got an invitation from the organizers and I accepted it. I will go relaxed, but aiming to win," said Useriu for aimx.ro before starting the race.
The tenth edition was harder than the previous ones, the organizers prepared a new route, longer by 57 km. The route also included 280 km on the Ice Road, a frozen river, where the temperatures are extreme.
"It was very hard. When I was walking I couldn't pull out my phone, I was a snow man. I couldn't unzip the jacket, with the mask, the glasses… and my hand was freezing. I couldn't even talk on the phone…When I was reaching the checkpoints I was so tired that I couldn't do anything. The Ice Road "ate me alive". It was very hard," said Useriu to his brother Alin before going on the last 90 km.
He was kneeled down, but he didn't give up. He got up and won.
Video courtesy: Tasuleasa Social
"It doesn't matter if some things repeat. They are never the same. Thank you for the support!," wrote Useriu on his Facebook page.
Also the Romanian president Klaus Iohannis congratulates Useriu for his achievement.
"Congratulations, Tibi Useriu, for winning the marathon Arctic Ultra! For the third time in row, the Romanian flag is on the first place in one of the toughest sports competition worldwide. This kind of performance is reached only with determination and sacrifices, and Tibi Useriu proved again that he is a fighter," wrote Iohannis on his Facebook page.
There were 32 participants on the race, out of which 23 in the race of 350+ miles but after the first day of the competition, eight participants dropped.