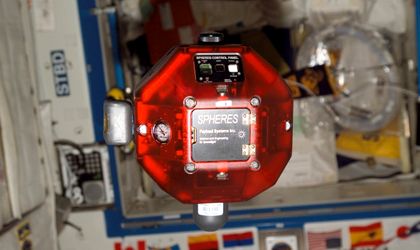 The heRObotics team, consisting of four high school students from Timisoara, will attend the final of the Zero Robotics competition, taking place in Massachusetts after it secured the funds necessary for the trip from BRD – Groupe Societe Generale. Representatives of the Timis County School Inspectorate announced on Monday that the team's participation was in jeopardy due to lack of money.
"On January 1, I learned that heRObotics team qualified for the final of the Zero Robotics International Competition, but for financial reasons could not reach the next stage of the competition. Coincidentally or not, January 1 is the day BRD launched a new promise to all those who, at the beginning of 2017 make plans for a better year – to be the help that they sometimes need to make their dreams come true. Just like the main character in our New Year's video, the four young high school students want to build robots and to change the world. But for that they need #unpicdeajutor [#alittlehelp]. So it was natural for us to offer our support students Fineas Silaghi, Vlad Mihai Ciuleanu, David Candreanu, Paul Prodaniuc and teachers and coordinators, to reach the final of one of the most important robotics competitions in the world. We are here not to talk, but to get involved, to transform as much as possible the ideas and dreams into reality," said Flavia Popa, Secretary General, BRD – Groupe Societe Generale.
"To be among the finalist teams in the robotics competition organized by the NASA is a very important performance for the four students from Timisoara, which shows the potential of Romanian students to be successful in fields that are not the most accessible. We were very glad to receive the invitation to participate in the final, but despite our efforts, we were not able to cover the costs needed to travel to the US. Here is where BRD – Groupe Societe Generale stepped in, sending the entire team to the final in Massachussets and fulfils the students' dream to bring to an end their mission and be in one of the most representative places for someone who is passionate about robotics," Gabriela-Nusa Cojocaru, teacher and coordinator of the heRObotics team.
The final of the Zero Robotics International Competition will take place on 27 January 2017 in Massachusetts, USA. The competition gathers high school students from North America, Europe and Australia, and focuses on programming of SPHERES robots, a type of experimental satellites located aboard the International Space Agency.
The competition is organized every year by the NASA in collaboration with the ESTEC centre of the European Space Agency and the MIT.
Georgeta Gheorghe