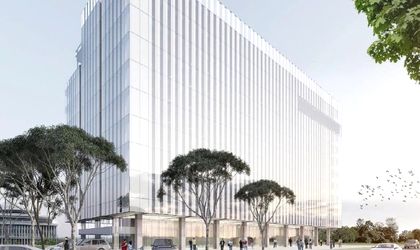 River Development, part of Romanian SEMA Group, has announced the start of the construction works for The Light office building located in Politehnica area, on the grounds of the former Pumac factory in Bucharest.
The building will have a gross leasable area of 21,000 square meters and will be delivered in the first quarter of 2018 following an investment of around EUR 33.5 million. The Light will have around 300 parking places. The designer of the building is M3D Cinetic, while Vitalis will be the project manager. The contractor for the indoor development is Apolodor, while the general contractor of the office project hasn't been made public yet.
"The Light is the first out of a series of three office buildings that we will develop in this location," said Ion Radulea, the head of River Development. In addition, the project will also include a residential component that will be placed between the office buildings and the University Politehnica, with construction works estimated to start by 2019.
"The area is insufficiently developed compared to Barbu Vacarescu," said Radulea, adding that the center-western part of the city is gradually starting to attract real estate investments.
The 11-story building will have a leasable surface of 2,100 sqm per floor and is designed to have a roof that can be used as a relaxing space for tenants or for the development of a skybar.
Radulea suggested that The Light will target companies active in the technology field that are focusing on Research&Development activities, hiring young people that might otherwise choose to work abroad.
Meanwhile, the company is continuing its investments at Sema Office, located near the metro station Petrache Poenaru. After delivering the first building called Bruxelles, which has a leasable surface of 14,500 sqm, the company is working to complete the Paris and Berlin buildings that will bring another 26,600 sqm on the office market.
"During 2009-2017 we delivered around 60,000 sqm of office and for the 2017-2019 period we aim to finish another 47,000 sqm of class A offices in the center-west part of Bucharest, Semanatoarea-Politehnica," said Radulea.
The good transport connections and the proximity to the University of Politehnica have been cited by developers as some of the core reasons for which they started projects in this area.
Near The Light, Skanska is developing the office complex Campus 6, while Vastint has inaugurated the first two office buildings in the complex located nearby, in the Timpuri Noi area.