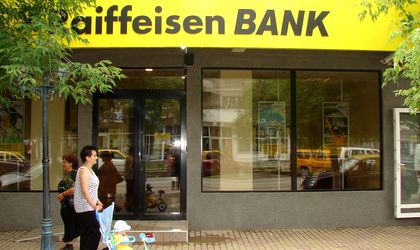 Raiffeisen Bank has reported an EUR 54 million net profit in the first half of 2017, up by 2 percent year-on-year. 
The total assets increased by 6 percent, to EUR 7.32 billion, from EUR 6.89 billion in June 2016. Loans went up by 3 percent year-on-year, while deposits increased by 14 percent.
The costs of loan portfolio provisions decrease from EUR 26 million in June 2016 to EUR 20 million in June 2017, excluding the effect of non-recurring events (payment and CHF-denominated credit conversion).
The rate of net loan ratio on deposits went up from 0.81 in 2016 to 0.73 in 2017. In the first six months of 2017, Raiffeisen Bank, representatives say, the bank continued to fund clients in all sectors and to invest in technology to simplify interactions of the clients with the bank.
The bank's net lending portfolio increased by 3 percent over the past 12 months, to EUR 4.32 billion. The newly approved loans in this period were EUR 1.4 billion, more than one third being granted to the segment of individuals.
In H1 the bank reported an increase in the monthly use of electronic services, especially of mobile banking, up by 125 percent. During the same period, about one third of savings products were accessed digitally.
In the case of saving customers, about a half of the volumes placed by them are in savings products with maturity of 6 and over 6 months. In May 2017, Raiffeisen Bank signed two new agreements with the European Investment Fund (EIF), totaling EUR 387 million under the COSME programs and the SME Initiative to facilitate access to finance for SMEs over the next three years. In the first half of 2017, the balance of credits to small and medium-sized enterprises increased by over 10 percent. At the same time, the SME clients were very active in trading, generating about 3.6 million operations. In terms of accumulation in company accounts, SMEs have had a tremendous performance with increases of about 30 percent.
In the large companies segment, the bank recorded rising funding in areas such as: healthcare services, infrastructure, retail, automotive, logistics, and real estate, through the financing and successful refinancing of reference projects in Bucharest, Cluj Napoca or Timisoara.
In the first half of 2017, the bank was also active in transactions on the capital market. Raiffeisen Bank was part of the intermediary consortium of the largest initial public offer of a private company listed on the Bucharest Stock Exchange, worth RON 945 million, namely Digi Communications NV, one of the main providers of telecommunication services in Romania and Hungary.