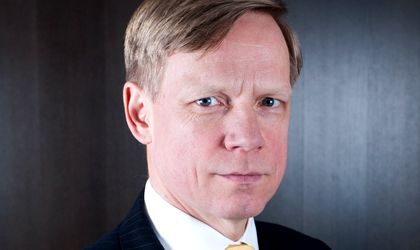 Steven van Groningen, the CEO of Raiffeisen Bank, says that Raiffeisen Bank International's investments in Romania have reached EUR 1 billion since the start of local operations.
Raiffeisen entered the Romanian market in 1998 by founding Raiffeisen Bank., which was merged with Romanian state-owned lender Banca Agricola in 2002.
During a press event that marked Raiffeisen's 20 years of operations in Romania, Van Groningen said that the bank has granted loans worth EUR 7 billion in the last five years, and there were 700,000 new clients that got a loan last year alone.
Speaking about the direct and indirect taxes paid in the last six years, he explained that this figure stands at EUR 640 million. The executive said that the bank has spent EUR 1.5 billion for its employees in 20 years.
Last year, the bank's revenues stood at EUR 450 million, out of which 13 percent was allotted for risk costs, 27 percent for suppliers, 25 percent for capital and shareholders, while 16 percent went to employees.
"Our purpose is not just to make profit and this will never be because in this way on the long term as a bank you will not have a sustainable path," said the executive, adding that Raiffeisen Bank has invested EUR 20 million in the community in the past 20 years.
In the first half of 2017, the bank's revenues reached EUR 222 million, while its total assets exceed EUR 7 billion. The bank recorded a profit of EUR 54 million in this period, according to Van Groningen. The bank has 2 million customers, out of which 1.9 million and individual customers, while 5,600 are large corporate customers.
Outlook of the bank for Romanian economy: Growing interest rates
Raiffeisen Bank estimates show that the Romania's inflation rate will expand next year, while the interest rates on the interbank market ROBOR is also set to grow by the middle of next year.
"Our ROBOR has always been volatile. Historically, starting 2003, it was quite volatile, because historically the BNR wanted a stable exchange rate. The BNR always wanted a more stable exchange rate, but it came at a cost for interest rates," said Ionut Dumitru, the chief economist of Raiffeisen Bank. "The abnormal period was when ROBOR was below 1 percent," said Dumitru.
The lender forecasts that the inflation rate will jump to over 4 percent by June 2018, compared to 2.4 percent at the end of last year.
On ROBOR, Dumitru says it might reach over 2 percent by mid-2018, up from around 1.8 percent at this moment.
The chief economist suggested that the central bank might focus more on keeping stable interest rates, which would mean that the exchange rate for the RON could become looser.