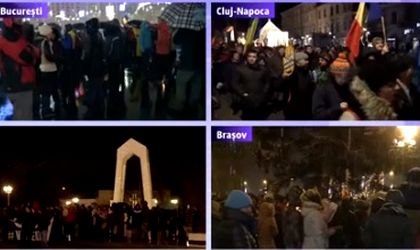 Thousands took to the streets across the major Romanian cities for the second Sunday in a row, asking the ruling coalition PSD-ALDE to drop controversial amendments to the judiciary.
In Bucharest, some 5,000 people were marching from the Victoriei Square to the Parliament. The protest was held one day after the funeral of King Michael. In fact, the protest in the Romanian capital was inspired by a statement from the king's speech dating back to 2011: "We have to resist the present in order to prepare the future."
"Thieves", "Down with the communists", "King Michael" and "Justice, not corruption" were some of the chants of protesters in Bucharest. Some of them were carrying the flags of Romania, the US and the EU.
Actually, the protest movement in Bucharest has developed this year under the "#rezist" banner. Meanwhile, the protests have continued to expand across Romania. On Sunday evening, some 1,000 people took to the streets in Iasi, and more than 4,000 were in Cluj. People also marched for the judiciary Craiova and Galati.
In Timisoara, some 10,000 people were attending the protest, according to HotNews.ro.
The amendments to the judiciary laws have been criticized by the National Anticorruption Directorate (DNA) and the Directorate for Investigating Organized Crime and Terrorism (DIICOT). The head of the DNA, Laura Codruta Kovesi, said that if the changes are approved, critical prosecution instruments will be scrapped, while the anti-corruption institution might be closed.
The DIICOT warned that around 1,200 investigations involving drug trafficking could be blocked if certain amendments regarding the gathering of evidence get enforced.
The Chamber of Deputies has passed several changes to the judiciary laws, but the final vote will be held in the Senate. Meanwhile, a special committee of MPs tasked with working on the amendments will start debates on the transposition of EU Directive 2016/343 regarding the consolidation of aspects of the presumption of innocence and the right of suspects to be present in the trial during penal procedures.