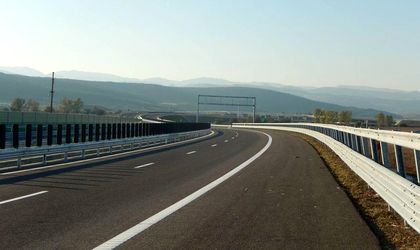 The Pro Infrastructura Association draws attention to the fact that the Transport Minister Felix Stroe's estimation of opening "at least 156.7 km of highway" over the next year is "completely irresponsible, a bald-faced lie and a gross misinformation", as they believe only 83.6 km could be completed, out of which only 63 km would actually be open for use, according to news.ro citing a social media post by the Association.
The Association writes, "The minister is shamelessly lying, trying to convince us that next year we'll open 'at least 156.7 km' for use out of a total of 186.8 contracted kilometres!"
Out of the 83.6 km which can be open next year, 21.15 km are ready. Lot 3 of the Sebes-Turda highway (12.45 km) has been finished since November 27, but CNAIR (the National Company for the Administration of Road Infrastructure) set the reception date for January 9.
At the same time, the Gilau-Nadaselu section (8.7 km) was completed on November 1 and received by CNAIR, but can't be used yet because the Gilau viaduct, 0.76 km long, has not been built as a link to the Transylvania Highway (A3). This segment could instead be open around August-September 2018.
At the end of this winter or beginning of the spring, lot 4 of the Sebes-Turda highway (16.3 km) could also open. This is a segment which had massive landslides and which CNAIR did not want to open last year, even though the alignment could have been completed.
The Pro Infrastructura Association also writes that "Meanwhile, the legal framework should be changed and clarified, so that this segment could be open to transit despite not being 100% completed". They also predict that traffic could be open on the A3 highway between the Bucharest beltway and Petricani Road (6.5 km) during the summer of 2018, if financing will be properly set up.
The longest highway section that may be inaugurated in 2018 is lot 3 of A1 Lugoj-Deva (21.1 km). However, the NGO says that "it is totally blocked by incompetence and avoidance of responsibility, as CNAIR doesn't recognize the extra works for which construction authorisations were issued. In December, the field work has been significantly reduced until the contractual situation is clarified".
In 2018, two other segments of the A3 highway will be finished – Ungheni-Ogra (10.1 km) and Ogra-Iernut (3.6 km), both estimated for August-September. But the Association says that they won't be open straight away because of the absence of a node that is part of a different contract and won't be finished at the same time.
In 2017, CNAIR only received 24 km of highway, significantly below the 90 km former Transport Minister Razvan Cuc had anticipated at the beginning of the year.