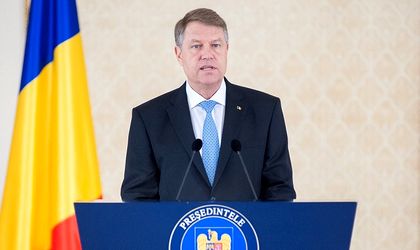 President Klaus Iohannis has announced that he will send the justice laws that have been recently changed by the Parliament to both the Constitutional Court and the Venice Commission for analysis.
Iohannis says that the PSD-ALDE ruling coalition is carrying out an assault on justice and the laws they have proposed don't comply with the rule of law or with the expectations held by Romanians regarding the independence of magistrates.
"In the fall of 2016, there was a campaign for the parliamentary elections and PSD promised only milk and honey to the electorate. They won the election and started governing. But what followed was completely different, and they started their assault on justice," Iohannis began his speech.
The president continued: "You probably remember the infamous Emergency Order 13 at the beginning of 2017, which we managed to stop together. Hundreds of thousands of Romanians with good faith protested in the streets against it."
He claimed that the assault has now moved to the parliament, and that MPs have adopted the laws using an unusual, rushed and unjustified procedure and an authoritative way to conduct debates, which all led to a lack of trust.
The justice reform, the president says, has been challenged by professional magistrates' associations and has raised great concerns among external partners.
"We cannot sit back and watch the Constitution being re-written," Iohannis stated. "In an authentic democracy, the separation of powers means a constructive collaboration in the interest of the public, a reciprocal respect between institutions, and above all, balance and reciprocal control between them. The laws of justice have an essential role in applying these principles. The entire legislative package was adopted by the parliament in – mind you – a week, and then they naturally required over four months and three separate decisions by the Constitutional Court in order to correct some provisions, which proves that the results would have been better if the laws were better founded and more widely debated."
In conclusion, the president said that he decided to send the entire legislative package back to the Constitutional Court and notify the Venice Commission.
"I am asking the Constitutional Court not to hurry and to work along the European body which has been contributing for more than 30 years to the development of a common constitutional heritage in Europe, and which supports the states that aim to put their judicial and constitutional structures in accordance with the international standards and good practices in terms of democracy, prominence of law and the protection of human rights, including through emergency constitutional support."
"After the Court will give an opinion on these matters, I will analyse the laws again and decide whether a re-examination is necessary," the president concluded.