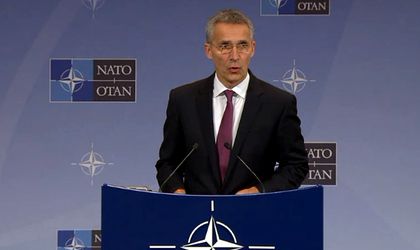 Romanian President Klaus Iohannis received NATO Secretary General Jens Stoltenberg at Cotroceni Palace for official talks. The NATO head is visiting Romania to attend the 63rd annual session of the NATO Parliamentary Assembly. 
The two will deliver a joint press statement at the end of the meeting. Later in the day President Klaus Iohannis and the NATO Secretary General will visit the headquarters of the NATO Multinational Brigade South-East (MN BDE) in Craiova. Also today president Iohannis will meet president of the NATO Parliamentary Assembly Paolo Alli.
In his speech before the annual session of the NATO Parliamentary Assembly, Stoltenberg said: "I start by thanking Romania for hosting this meeting and for the numerous and very solid contributions to the Alliance, to our common defence and security. Romania is important from many perspectives – its contribution to the Afghanistan and Kosovo missions, as a host of our ballistic defence system present here and because it wants to spend 2 percent of the GDP for defence. Therefore, Romania wants to safeguard the almost 1 billion NATO citizens," the NATO official  said.