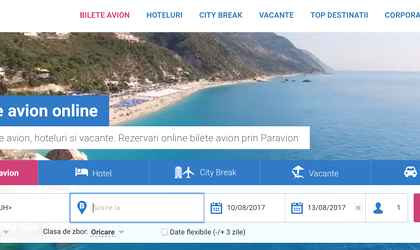 Paravion, Romania's biggest online tourism portal, has filed for insolvency and will close bavul.com, the Turkish-based portal it purchased in 2014. The company will implement a restructuring plan starting August 8.
In the past year, Paravion's Turkish portal, bavul.com, which represents one third of the business, recorded losses, due to the political instability and security issues affecting Turkey. Losses amounted to several million euros, sources say. Paravion is managed by GED investment fund.
"The online tourism agency Paravion, present in Turkey with portal bavul.com, will implement a restructuring program starting 8 August 2017.  The decision was motivated by the dramatic drop of the business ran by Paravion in Turkey via Bavul, on the back of political problems and security issues experienced by Turkey in the past 12 years," the company said in a statement.
Company representatives expect that the agency will continue to carry its business as usual and will allow tourists to continue booking airline tickets, accommodation and holiday purchases. In 2015, Paravion took over online portal Bavul, with a portfolio of over 300,000 users from Turkcell.
After the purchase, in 2016, Bavul recorded EUR 23 million, however after the strong depreciation of the Turkish lira in the last quarter of 2016, had a dramatic impact on the investment and on the Paravion business.
Therefore, the company decided to close the Bavul portal and reorganise the company.
Paravion is the first 100 percent online ticket reservation site in Romania and has an average 20,000 searches per hour, and Paravion sales exceeded 440,000 flight tickets," the company said. The company reported a turnover of approximately EUR 78 million. Operations in Romania increased by 20 percent over the previous year, reaching EUR 55 million, and those in Turkey amounted to EUR 23 million.