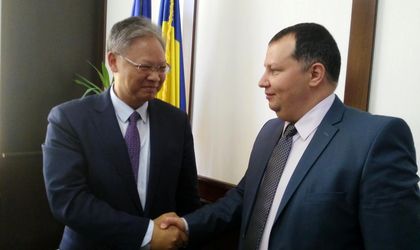 The minister of energy, Toma Petcu, claims that Romanian authorities want to conclude this year the negotiations with the Chinese for the construction of two new nuclear reactors at Cernavoda.
The Romanian minister spoke about this project with the Chinese ambassador Xu Feihong.
"The discussion was very pragmatic and detailed and the conclusion was very good for both states: both the Romanian state and the Chinese state want the negotiations to be finalized by the end of the year. We have found the same approach, for the acceleration of negotiations, in the case of thermal energy plan Rovinari and the interest of the Chinese to resume discussions for Tarnita plant," said Petcu in a Facebook post.
In July, the Romanian government has adopted a memorandum for the construction of reactors 3 and 4 at Cernavoda, which allows negotiations to continue with China General Nuclear Power Corporation for this project.
The construction of the two nuclear reactors could cost around EUR 6.5 billion, while the plant at Tarnita has a price tag of over EUR 1 billion. Romanian authorities have been struggling for years to find investors for these projects. Meanwhile, energy experts say that such large scale projects could deter potential investors, and the country might opt instead to focus on smaller power generation capacities.