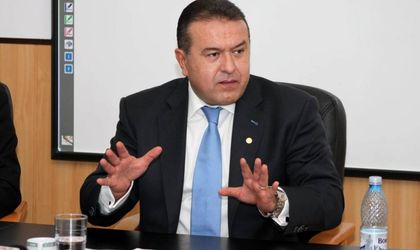 It is time to produce in Romania, to consume products made in Romania and to try to sell produces with high added value, Mihai Daraban, President of the Chamber of Commerce and Industry of Romania (CCIR), said on Thursday at the official opening of ExpoAgroUtil Fair .
"Agriculture is Romania's bet, which we hope to win. There is a lot to be done in this area of ​​activity, beyond the record productions. Unfortunately, we export raw materials," he said. "It is time to produce in Romania, to consume products made in Romania and to try to sell products with the highest added value.The Romanian trade deficit is increasing exponentially. We are talking about EUR 10 billion in 2016, EUR 13 billion in 2017. (…) CCIR puts in all efforts to internationally promote Romanian business and at the same time militate to diminish this trade deficit, "said Mihai Daraban.
According to a a statement released by the CCIR, Mihai Daraban stressed the importance of the ExpoAgroUtil fair. And the figures back that us. Exhibitors' participation went up by 20 percent compared to last year and by 35 percent compared to the previous years. "The ExpoAgroUtil project started from an area of ​​2,000 square meters, which grew in time reached 4,000 square meters. In its 26th edition the area covered has ​​15,000 square meters. Around 600 pieces of equipment and machinery are exhibited at this event. ExpoAgroUtil is the second national such event after Indagra, said Daraban.
ExpoAgroUtil takes place between 3 and 6 May 2018, in the outer space of the VIVO Constanta Center. The event brings together more than 85 exhibitors, from the country and abroad, on a total area of ​​15,000 square meters, including producers, importers and traders in the agricultural field and beyond. The list of exhibitors include companies from Italy, Greece, Bulgaria and Romania.