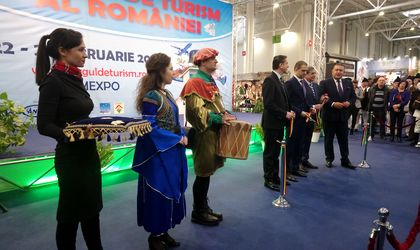 Romanians still choose Turkish destinations this year, but there is a high increase in the exotic destinations, as well as in adventures and special experiences in less known places.
This Thursday has begun the Romanian Tourism Fair at Romexpo, Bucharest, and will continue until this Sunday. Over 290 tourism agents and tour-operators present their offers.
There have been plenty of visitors even from the opening of the fair, looking for diverse destinations, from traditional Romanian ones to more exotic ones, such as Morocco, Tanzania and Uganda, revealing the urge of Romanians for travels. It has been an atmosphere of celebration, with traditional Romanian food, traditional Romanian clothes and many offers to choose from.
Romanian destinations such as Maramures, Bucovina balneary resorts and Fagaras area are in high demand, especially for Easter holidays. Fagaras citadel has been restored and is waiting for its visitors. Also, the representatives of Bucovina county's council say people are interested in Bucovina tours during this Easter for the traditional experiences; the packages start from EUR 200-250 up to EUR 400, depending on the activities included, such as visits to monasteries and traditional eggs painting workshops.
"Turkey registers the highest demand in 2018, especially during the Romanian Tourism Fair. The second chosen destination is Greece, followed by Spain. Moreover, there is an increasing demand in the exotic destinations. They have almost reached 10 percent of the sales. We aim for a 12 percent increase in overall sales this year and I believe we'll reach this objective, " says Cosmin Marinof, national sales director TUI Travel Center.
During the fair TUI Travel's offers range between EUR 299/person for a four-star hotel accommodation in Antalya with all inclusive, for April-May period, to Thailand EUR 599/persons/7nights, with breakfast and transport included, to EUR 719/7 nights/persons in Tenerife for June, as well as a cruise in Caribbean during this Easter and night-stays in Cuba, EUR 1999/12 nights.
The high demand for Turkey is confirmed also by tour-operator Christian Tour.
"The highest demand this year is registered by Turkey, an increase by close to 50 percent, followed by Greece 15-20 percent, Bulgaria, Spain, Italy, Portugal, as well as Romania. The prices range between EUR 99/7 nights accommodation/person in Antalya with all inclusive, + EUR 95 airport fees, to EUR 199/ person Montenegro and with "senior travel" program they reach EUR 495/ breakfast and dinner included, transport and flights included. We also have customized offers," says Marius Berca, operational manager at Christian Tour.
However, there are more and more Romanians looking for adventures and closeness to nature and trekkings.
"We have offers in special destinations for people looking for adventures, dedicated to rather small groups, interested in hiking and trekking. Africa registers the highest demand, we have trekkings on Kilimanjaro, Ethiopia, Uganda, as well as safari. We offer experiences, cultural contact and activities such as paraglide and rafting. There is an increasing demand in the last years for this kind of experiences. The prices range between EUR 1,000 for closer destinations to EUR 3,000-4,000 to the farthest destinations, depending on transport switch, flights changes, " says Radu Vatcu, general manager of Extreme Travel.
Also the early bookings for Romanian seaside increased year-on-year by 30 percent in 2018, according to Paradis- Vacante de Vis.  The top 3 resorts from the Romanian seaside according to the demand for 2018 are Mamaia, Eforie and Venus.